Universal Declaration of Human Rights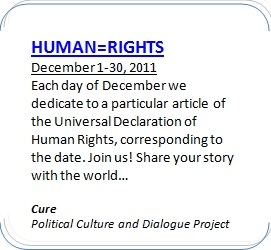 Article 5
No one shall be subjected to torture or to cruel, inhuman or degrading treatment or punishment.
Torture and other ill-treatment in the Republic of Macedonia
Torture and other forms of ill-treatment are no news in the Republic of Macedonia. The Ombudsman, Macedonian Helsinki Committee, Commission for the prevention of Torture, and other organizations and institutions from the the country and internationally, have reported on various forms of ill-treatment, mainly conducted by police, prison personnel, personnel of special institutions, as well as the special unit "Alpha".
According to numerous reports, Macedonian prisons are places of fear, humiliation, violence and death. Whilst reports indicate severe treatment of arrestees and inmates, the government is undertaking construction works and presents it as a prison reform, "forgetting" that it is the system and personnel that need to be painstakingly reformed. This account includes the police custody; police stations are places of humiliation, psychological and physical ill-treatment, which needs to be inspected despite the small number of reports by citizens, which is a consequence of fear, not that the problem does not exist. 
Amnesty International: Annual Report 2011 [excerpt]
In March the Macedonian Helsinki Committee reported that serious shortcomings in psychiatric hospitals often amounted to violations of patients' rights. Living conditions were described by the Ombudsperson in September as "catastrophic". In September the European Committee for the Prevention of Torture carried out a visit to places of detention, including social care homes and psychiatric hospitals.
Reports of ill-treatment by police continued.
•       Roma alleged excessive use of force when 200 riot police took part in shutting down an unofficial market in the Skopje suburb of Šuto Orizari in April. Among those reportedly injured were 17 police officers and, according to the Mayor, more than 40 Romani people. However, NGOs reported that Roma did not complain for fear of retribution. An internal inquiry concluded that the police "had acted within the limits of their competences".
•      The government agreed a friendly settlement with Jasmina Sulja following her application to the European Court of Human Rights. She claimed that she had been denied an effective remedy as a result of the authorities' failure to investigate the death of her partner, Sabri Asani, an ethnic Albanian, who died after allegedly being beaten in police custody in January 2000.
Share your story with us:
www.human-macedonia.blogspot.com 
and join the e-debate on human rights.

HUMAN=RIGHTS is part of the Cure – Political Culture and Dialogue Project.
Financed by the Balkan Trust for Democracy.

This informative product was allowed by Civica Mobilitas Programme – implemented by CIRa and financially supported by SDC.
The content of the material represents standings of its author(s) and not necessary reflect the opinion of CIRa, SDC and BTD.