Artworks created by children and youth on the subject "All the Colours of My Country" will be exhibited on November 21 in Struga, in "Braka Miladinovci" Elementary School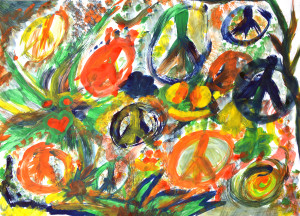 The artworks were created during the Creative Arts Summer School in Ohrid, by students coming from different towns, within the project by Civil- Center for Freedom titled "All the Colours of My Country", dedicated to the education for human rights and freedoms and tolerance through mutual creative production.
The artworks that will be on show are part of the works created during the Creative Arts Summer School which was held this summer in Ohrid, where over 40 children from all over Macedonia took part, lead by experienced and trained artists- educators.
There will be a screening of a documentary film about Struga, produced by two young creators who were part of the School for creative video production. Besides these two, the School for creative writing was also part of the summer school.
The Schools for creative arts are part of the activities of Civil within the project "All the Colours of My Country", that started in May and will continue until the end of this year. The project is financed by the Swiss Agency for Cooperation and Development (SDC) through the CIVICA Mobilitas Programme, implemented by the Center for Institutional Development (CIRa) .
In the forthcoming weeks this exhibition will be shown in Kumanovo, Kicevo and Skopje. The exhibition in Struga will be opened at 12:00am. 

This post is also available in: Albanian Macedonian