A young man stopped in front of tanks, in defense of the citizens from his government in the square of Tiananmen 25 years ago, on June 5th 1989. Until today, he is known as the Tank Man or Unknown demonstrator and is a symbol for the individual act of heroism and self-sacrifice, inspiration for millions of freedom-loving people.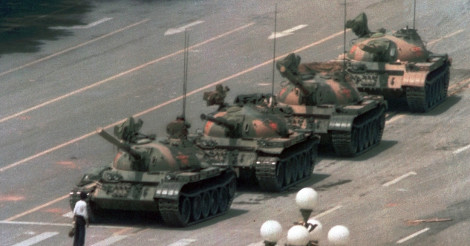 25 years ago the Chinese government was shooting over its citizens, while tanks poured over the extent of thousands of demonstrators on 3 and 4 June 1989. A thousand demonstrators were brutally killed while they were protesting peacefully for democratic reforms in the country.
In the name of national stability, one-party system in China continues to violate human rights and fundamental freedoms of citizens / customers own. Liquidation of political opponents, secret prisons and police brutality are only a part of the long list of today's way of keeping the Chinese government's brutal regime.
Tank Man stopped all tanks that were moving towards the square Tjenanmen in Çang'an Avenue in the Forbidden City of Beijing, a day after demonstrators clash rude. He stood in the middle of the avenue, in the line of the column with T-59 tanks. The first tank tried to go sideways, but he was constantly moving, impeding the progress of tanks. The tank stopped and the man climbed on the tank and came to the tank personnel. He came down and stood before tanks again. Engines started working again and tank headed back to our hero. Then, two demonstrators ran from the left column of tanks, to escape from certain death.
This is the short history of this great man and symbol of individual protest.
This post is also available in: AlbanianMacedonian