Civil – Center for Freedom released its preliminary assessment of the elections process according to which the elections day was relatively calm, but filled with numerous irregularities (press conferences at 20h at the Mother Theresa monument one hour after the closure of elections polls on March 24, and in the Journalists club on March 25, at 12:30h)
Abundant irregularities and abuses have been registered by monitoring teams of Civil – Center for Freedom, that were monitoring yesterday's ballot within the project "Free and Non-violent Elections". The general assessment of Civil for these elections is that the voting day was relatively calm, but filled with numerous irregularities, in terms of which we expect the institutions of the system to react immediately and uncompromisingly.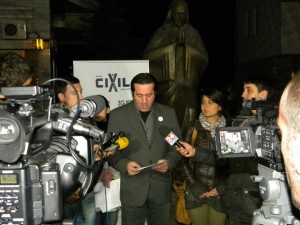 Major incidents and violence have not been reported; however, these local elections have once again raised big and serious questions about the system and its abuse by the main election stakeholders. In fact, the largest part of the campaigns was carried out in the background and did not allow voters to vote freely and according to their opinions, but rather, they were conditioned in different ways to vote in the way that will cause least damage to them, their existence, and even safety.
Information and reports from our people on the field are being processed and facts are being verified by our analytical team and mobile teams on the field. At the very end of the entire electoral process, Civil will come out with a comprehensive and detailed report and analysis.
At the beginning, Civil decries the behavior of the political actors at these elections, among everything else, for the numerous cases of violation to the election campaign silence.
Civil considers the behavior of the political parties inadmissible, for stopping at nothing in their election campaigns to exert strong pressure on the electorate. State and municipal resources misuse was widely spread and so obvious that very few even tried to hide it from the public eye. We emphasize once again that abnormal behavior and undemocratic methods have gone beyond any limits and have come to represent what is normal and daily life.
In addition, we will single out portion of the countless events showing the undemocratic and illegal behavior at these elections throughout the country.
Despite all the fears, the ballot in Kichevo and Struga went relatively calm. Nevertheless, the consequences of the nationalistic rhetoric, a rhetoric that originates from the election campaigning, and which can further result in escalation of the interethnic tensions and conflicts, remain to be seen.
After the ballot was cast in Kichevo, according to our observers, there were shootings of firearms in celebration (celebratory gunfire), all that in the presence of police.
Celebratory gunfire is also registered in numerous parts of Skopje. Reports are coming about celebratory gunfire in the other parts of the country.
Fights and quarrels on the voting day have been reported in the municipalities Shuto Orizari, Mogila and Chair.
Party activists have been seen close to the polling stations, making records of people who voted, which is also kind of pressure that is exerted on voters, or inadmissible control over the electorate.
Civil has also registered a number of cases in several municipalities where people have been removed, or simply not found in the voters' lists. Some of them are the municipalities Dolneni, Debreshte, Kumanovo, Tearce, Kichevo, etc.
Furthermore, many cases involve dislocation of voters to other polling stations. In one case, a married couple registered on the same address in Kichevo, has been forced to vote at two different polling units. So, first they had to go to the municipality offices to check at which polling units they can vote, and only then go and cast their vote at those two different places.
Cases have been also registered where voters, when arriving at the polling unit, have been told that they have already voted, or somebody else has voted for them.
In many municipalities, party activists have been collecting people from their homes, then in organized fashion, taking them to the polling station where they voted.
In several occasions our observers have detected people trying to vote for the second time with different personal documents. We have no knowledge of whether these endeavors have been successful or not. This comes in addition to the great number of cases where lamps and sprays have not working properly, or have not been used at all; and that is true for many municipalities.
Group and family voting have been registered in several municipalities, including Tetovo, Struga, Arachinovo, Plasnica, Chair, Saraj and many others. In addition, violation to the secret ballot, or public voting by voters, has been reported at many places.
Moreover, taking photos of the ballot to serve as a proof that someone has voted for a specific party have also been witnessed. Frauds called "Bulgarian Train" have been reported in few municipalities, such as Veles and Bitola.
Minority communities have complained at the pressure and blackmail that have been seen in a great number of municipalities nationwide. Extreme pressure has been exerted during the election campaign, but also on the voting day, most of all, on the Roma population, and on many other small ethnicities, as the Turkish, the Serbian and other ethnicities.
Lots of information that reached Civil's attention speak of votes buying. Money, food, store debts settling and other diverse forms of bribe have been observed countrywide, at municipalities among which Plasnica, Kichevo, Kumanovo, Kavadarci, Tetovo and many other places.
Agitation on the day of the vote cast has been reported in numerous municipalities, among which Kumanovo, Resen, Chashka, Kichevo, Chair, Zelenikovo, etc.
Particularly disturbing is the misuse of children who wave party and ethnic flags on the voting day.
Abuse of a similar kind has been reported by teachers who have used social networks to agitate their students to vote for a specific party, or to convince their parents to do so.
In the days prior to the ballot, cases have been reported where students of voting age have been requested to vote for a specific political party, and to prove that with a picture taken from their mobile phone, in exchange for a good grade.
Allegations of party activists entering the polling stations on the night before the elections have come from Arachinovo and Sveti Nikole.
Shuto Orizari leads in the number of incidents. Fights, bribe, transportation of voters, obstruction in the work and threats to journalists, preventing voters from voters, and many other similar forms of incidents have been noted.
Imported voters from Albania have been registered in the municipalities close to the border. These people have used Macedonian passport to vote, where it clearly says that their country of residence is Albania; however the voters' list had them listed as Macedonian citizens living on factious addresses in Macedonia, in municipalities close to the border, but also in the municipality Center.
Yesterday, party activist voiced direct threats to one of our observers in one municipality in the country.
There were cases where Civil observers were prevented from monitoring by the election boards in Skopje, Kriva Palanka, Kumanovo and Veles. The reason for that they said is that the observers had no written certificates from SEC, despite their clean accreditation from SEC and identity documents from Civil. Following our reaction to SEC, this occurrence was nevertheless not rectified in its entirety. We call on SEC to correct this type of conduct and to prevent such events from occurring in the second round of the elections.
High state officials and MPs were placed as party observers yesterday in Kichevo. Irrespective of the legality of these actions, the question of their legitimacy remains.
The secrecy of personal data has been breached in many cases during the pre-election campaign, but also during the election campaign silence – in many different ways. During the pre-election campaign, but also during the election campaign silence, a series of abuses and selective approach in official authorization have been registered, most of all, by inspection bodies, as well as police officers and chiefs of police stations in Tetovo, Zelenikovo, Jagunovce, Kichevo and etc.
This post is also available in: AlbanianMacedonian