September 21: International Day of Peace
On the International Day of Peace violence and wars are supposed to stop at least for the day.  On this day, peoples on Earth need to settle their problems through negotiations. Warlords must be sacked and tried for their crimes. Human rights and freedoms of people must be respected. Food and schooling must be provided to every child in the world. Every single person deserves to live in peace and dignity.
It is sad that this looks like a dream, yet so easy to achieve.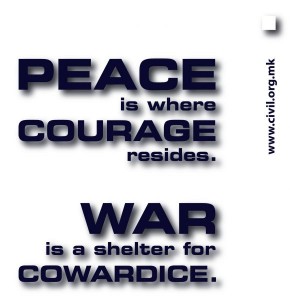 Civil – Center for Freedom, organization for human rights and freedoms, peace and arms control joins the world's peace loving people demanding world peace. Every year we invite our members, activists, volunteers, and partner organizations to support us by spreading a word of peace, and take an action today and not only today.
Today, every human being is supposed to contribute to overcoming hatred, prejudices, gun culture, nationalism, and violence.
For many years now, Civil appeals:
To all public figures, music stars, sportspersons, journalists, artists, intellectuals and all citizens of the Republic of Macedonia and the world, all civil society organizations, political parties, religious leaders and believers: join the observance of the Peace Day in the world – talk about peace, spread the message, take an action.
We appeal to the President, Parliament's Chairperson, Prime Minister, Ministers, Members of the Parliament, Mayors, and party leaders to express public support of the peace and manifest their support through concrete steps and measures to overcome hatred, prejudices, gun culture, nationalism, and violence in the country and by doing so contribute to the world peace efforts.
We appeal to teachers in schools and parents at home to take some time and tell children about this day and the importance of peace in their lives.
This year, again, we appeal to the Parliament and the Government to declare the International Day of Peace (21 September) and the International Human Rights Day (10 December) as national holidays.
"Peace is where courage resides. War is a shelter for cowardice"
This post is also available in: Albanian