Since the start of the election campaign, Election Report is being broadcast live every day around 11.00 am on CIVIL's Facebook page and YouTube channel. Today's report, seventh in a row, includes reports for non-compliance to protocols for protection against COVID-19, political abuse of children and a black campaign. The next edition of Election Report is scheduled for tomorrow, Monday, October 4, at 11.15 am.
PARTIES VIOLATE COVID-19 PROTECTION PROTOCOLS
At the rally of the Levica party for promotion of their Skopje candidate, CIVIL's Monitoring Team noted that the 40 present people did not comply to the COVID-19 protection protocols.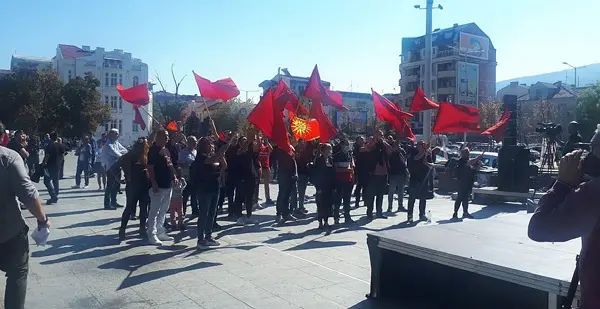 Levica, central rally, Skopje, City Park, Oct. 2, 2021, non-compliance to COVID-19 protection protocols
Ramiz Merko, current mayor and DUI candidate, also found himself in the report of CIVIL's Monitoring Team. According to the photos to which CIVIL's Monitoring Team came across, he did not keep distance and did not wear a mask yesterday at the meetings with the citizens in Struga and in several other settlements in the municipality.
Ramiz Merko, Struga and the surrounding area, Oct. 2, 2021, non-compliance to COVID-19 protection protocols
An exception is the meeting of Merko with the women's organizations, where care is taken for the COVID-19 protection protocols, although in one photo keeping distance is lacking. All photos are from the FB profile of candidate Merko.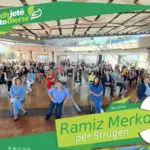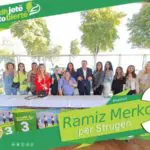 CIVIL's collaborators from Jegunovce report that VMRO-DPMNE does not comply to the COVID-19 protection protocols. Such is the meeting of the President of VMRO-DPMNE and senior party officials with citizens from the village of Kopance.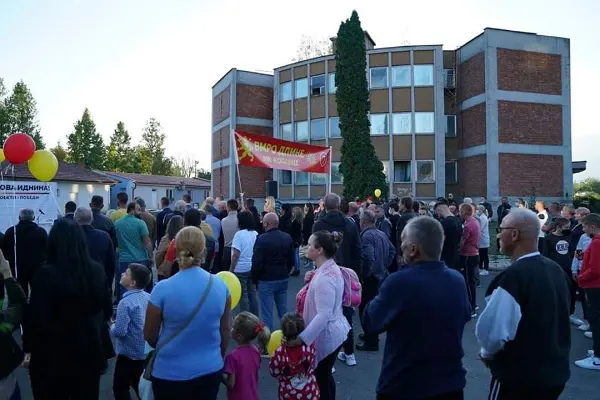 VMRO-DPMNE, village of Kopance, Municipality of Jegunovce, Oct. 2, 2021, non-compliance to COVID-19 protection protocols
STANDPOINT/RECOMMENDATION: FOR POLITICIANS IT'S AS IF COVID-19 PROTECTION PROTOCOLS DO NOT EXIST
In the reports of CIVIL's Monitoring Team, in the category Violation of COVID-19 protection protocols, VMRO-DPMNE, Levica and DUI are leading, followed by the Alliance for Albanians. Though, to a lesser extent, non-compliance to the COVID-19 protocols is noted at SDSM events as well.
There have been no reports of violation to the protocols by independent candidates at the local elections.
We call on all participants in the election process to comply to protocols 42 and 43, in which it is clearly stated that participants and organizers should keep distance and wear masks at gatherings. Organizers also need to provide disinfectants. Those present at the gatherings can also bring a bottle of a disinfectant.
Invest in your health, use a disinfectant and protective masks. Maintaining a distance is free!
CASES OF POLITICAL ABUSE OF CHILDREN
Political abuse of children is noted in the report on VMRO-DPMNE's party activities in Jegunovce. In the photos we received from Facebook, shared by the party and its supporters, it can clearly be seen that some of the children have a function at the gathering.
Abuse of children for political and election goals is forbidden by the Law on Protection of Children, Article 12 paragraph 4 of, which reads:
"Abuse of children for political and religious organizing and action is prohibited".
The legal experts with CIVIL's monitoring team comment this frequent phenomenon with the following words:
"This paragraph in the Law on Protection of Children means general prohibition of using children in any form of political action, including also a political election campaign".
HATE SPEECH AND A BLACK CAMPAIGN
Disgusting comments are noted against the leader of SDSM and Prime Minister, Zoran Zaev, under the tendentious post of the Facebook profile of Chao Zaev.
Black propaganda on the Facebook profile of "Chao Zaev", Oct.2, 2021
The editorial of CIVIL's media platform decided not to publish these comments, but they certainly are archived and will be put at the disposal of relevant institutions should they decide to take measures.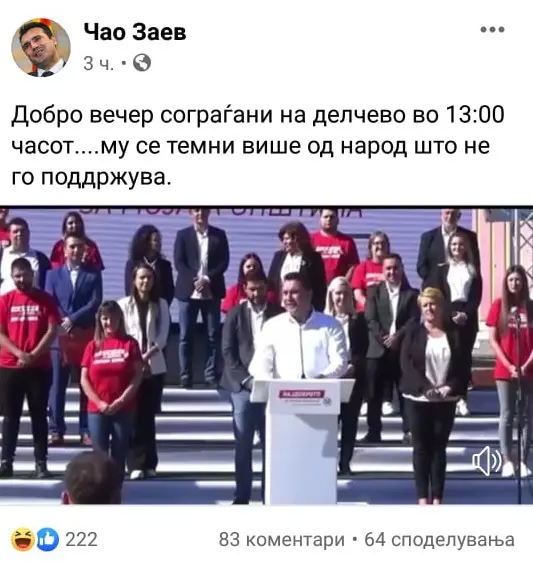 It is unnecessary to remind that anyone who administers a Facebook page is responsible for the posts, but also for the comments. The relations and political affiliation of this and similar profiles on the social networks are well-known. They are a testimony that an organized black campaign is being conducted in the country.
A more serious activity by the relevant institutions has not been noted so far for preventing the black campaign and revealing the sources of financing and managing these activities in public communication.
CIVIL'S RECOMMENDATION
CIVIL considers that it is high time for the institutions to start doing their job and fulfil their legal obligations towards the citizens of this country, and especially towards minors who use the social media.
CIVIL continuously addresses the public and appeals to the citizens to refrain from hate speech on the social networks, to reject and strongly condemn such incidences.
Author and host: Xhabir Deralla
in cooperation with CIVIL's Monitoring Team
Camera and realization: Arian Mehmeti
Translation: N. Cvetkovska
This post is also available in: Macedonian