Civil – Center for Freedom announces the start of the Free Elections 2014 project. Civil formed a team for production of informative media contents related to the elections process, which will be available through the website and other online channels of Civil, whilst all media are free to re-broadcast/publish without limitations.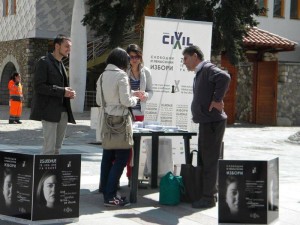 The analyst team of Civil is already following the situation in the Republic of Macedonia for some time now. This team will prepare a comprehensive report and analysis that will be publicized in four months from now, the latest. That includes observation of the elections process before, on the elections days and after. Civil will observe the political parties, institutions and authorities at local and central level, media and other stakeholders in this process.
Civil appeals to all citizens of the Republic of Macedonia to repel pressure, threats and intimidation and vote according to their free will and beliefs. We remind the citizens that voting is secret and there is no way that one could find out who they voted for.
Civil invites all citizens to submit information on electoral irregularities and violations of the Election Law via phone: 02/5209176 and 075/707143 or via e-mail: [email protected].
Follow the work of Civil and the information related to the elections process on the following links:
Twitter hashtag: #izborimk (Macedonian), #zgjedhjemk (Albanian) or #electionsmk (English).
The Free Elections project was funded in part through a U.S. Embassy grant. Civil makes efforts to obtain as high presence in the field as possible through its members, activists and partner organizations, expecting additional support by the donor community.
This post is also available in: AlbanianMacedonian