Minister of Interior, Oliver Spasovsski, three days prior to the elections, in an interview for CIVIL Media, points out to the readiness of the Macedonian police to fully secure the election process. He claims that the MOI has a list of voters or "phantoms" and will thereby seriously sanction, in accordance with the legal regulations, any attempt made by outside people, who are not residents of Republic of Macedonia, to commit abuses and vote with other peoples documents or with forged identification documents.
In terms of rumors that certain structures may cause incidents on the day of the elections, Minister Spasovski assures that the police will immediately intervene and prevent all attemps to hinder the efforts for fair, democratic and credible elections, which are of historic importance for the country and which are to surely open the European path. He has a firm position that the police will also act upon ex officio reports, with the purpose of preventing election irregularities and urges citizens not to succomb to pressures and blackmail, but rather to report them to the MOI.
CIVIL Media: In the first of the series of interviews for CIVIL Media, at the beggining of your "first term", you stated that your priority was to depoliticize the Ministry and the police, and that you would try to have complete insight in the work and functioning of the MOI. In the public, and especially from reports of CIVIL's observers on the ground, there is an impression that currently there are two police forces in Macedonia functioning almost in parallel. Do you have complete control over the MOI, especially in ths pre-election period? Do you have coomunication with your Deputy, Oliver Andonov, who is from VMRO-DPMNE, in accordance with the Przino Agreement? Who is Andonov's superior, you or his party chief, Gruevski?
SPASOVSKI: First of all, I would like to tell you that the perception that there are two police forces in Macedonia is not correct, because the Macedonian police is one, and it has just one person in charge, and that is the Minister of Interior, regardless of who that minister is. It is true that the Macedonian police is also highly unprofessional and overy politicized, and even criminalized! Unfortunately, I have to say that. And those are the three priorities, which I now repeat again and they being for the Macedonian police to entirely fulfill the interests of the citizens of Republic of Macedonia, for it to be decriminalized, depoliticized and maximumly professionalized! For the right people in the Ministry to undertake the right positions. We have the Przino Agreement, based upon which we need to function in this period, all with the purpose of establishing control of the system that was completely politicized and abused in previous election cycles.
In regards to the communication with alternative Minister Andonov, it is based on the authorizations provided by the law. And I do not need any better, or greater communication than the one that is already provided by the laws of Republic of Macedonia. He, just as I, needs to be accountable to the Parliament of Republic of Macedonia. I would like for him to be also accountable to the police, to the citizens, which he hasn't shown in his entire mandate. And whether that direction is given by Gruevski, I can agree or assume that it has been!
CIVIL Media: It is said that enormous amounts of "black money" are bieng transferred through secret channels in certain cities in the country in these past several pre-election days,  in order to be put into circulation on the black market for vote buying, before and on the day of the elections?
SPASOVSKI: There are many rumors that voters can be abused in this area through vote buying, we already have several attempts of bribery that have been processed by the MOI. I would just like to warn all those who in this election period dare lay hands on the freedom of voters, on the freedom of the decision to vote, and must say that there will be no compromise for anyone, for any of the political entities, or members of any political party. Therefore, it is very clear that the Macedonian police will react if it notices any bribery, transfer of money or anything else that would mean violation to the election process. We need an election process that will be fair, democratic and credible. However, I also urge the citizens of Republic of Macedonia to help the Macedonian police, to engage in this process, becuase only together we can make it more democratic and free. They really need to report to the police anyone who attemts to influence, blackmail or intimidate, so that we can take radical steps and measures.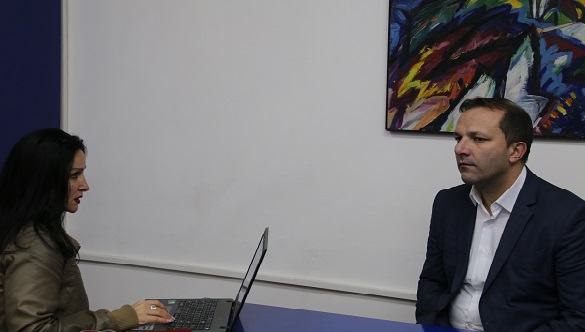 CIVIL Media: CIVIL sources claim that in the Kumanovo area there are deceased citizens, whose ID cards, identification documents are still in use, because they have not been removed from the files in the MOI following their death, but instead only religous rituals and ceremonies have been performed. Can their documents be abused in the elections on December 11?
SPASOVSKI: Potentially every document that is owned by citizens, every document they have from deceased persons and so forth, can be abused if these people have not been recorded and deleted from the Voters Register. There are also voters who have been reported by citizens of Republic of Macedonia to be living in certain houses, apartments...They have been reported to the SEC. Part of them have been deleted, while some still exist according to reports of citizens. I want to send a clear message to the citizens that we have a list of all controversial voters who figure on the Voters Register, and that there will be serious sanctions for violation of the election process if anyone should try to abuse that right to vote. Hence, not only for those who are trying to abuse someone's personal documents and votes, or for those pressuring certain people to abuse those personal documents, but also for the controversial voters themselves, if they happen to be noted at the voting stations by any of the observers of the political parties that they are one of the people on the Voters Register for whom we know that they are not in Macedonia, that they do not live on a certain address…, this will be seriously checked.
CIVIL Media: Your colleague, the Minister of Labor and Social Policy, Frosina Tasevska Remenski, two weeks ago pointed out to 134 decaesed people from Tetovo and the Tetovo area, who are beneficiaries of social assistance and are voters who are still "alive". Have you been taking any measures to resolve these cases in these past two weeks?
SPASOVSKI: For those cases in which there was abuse of documents for social assistance or other benefits in the area of social policy, a report has been submitted and the department for organized crime is working on these cases.
CIVIL Media: Can you actually control the situation on the ground during the elections on December 11?
SPASOVSKI: All measures neccessary concerning the security situation in the country, in terms of ensuring the election process, by forming appropriate headquarters, have been undertaken. The Macedonian police is preparing to seriously undertake all responsibilities that lie before us, in cooperation with the State Election Commission, all with the purpose to ensure free voting, voting that will not burden the citizens of Republic of Macedonia and the securing of the voting stations.
CIVIL Media: Do you expect any incidents?
SPASOVSKI: These are historic elections, and for such elections we need political entities that will be up to the historic task. I can already hear and have certain information that some of the political entities may cause some minor or greater incidents, and I urge for this not to happen, because Macedonia now needs elections that will be according to European standards. So the responsibility will fall upon all of us. However, if they make any such attempts, the police will certainly not be indifferent to the destruction of the election process. We will seriously oppose such activities and violation of the will of the voters in Macedonia.
CIVIL Media: This means that you will be acting even without a report, ex officio, in cases where you know for sure that there are electoral irregularities?
SPASOVSKI: It means that we will be acting in accordance to the legal regulations in Republic of Macedonia and ex officio also upon reports and in every possible way as well, all with the purpose of protecting the election process.
Monika Taleska
This post is also available in: Albanian