If people unite and decide to pull the same string, a lot can be achieved. In our opinion it is very important to activate and reach the young generation. The social media is an excellent way to inform them about what is happening in their country and how they can be a part of this movement (impressions from Macedonia)
Hannah Hischier
Pascal Hunziker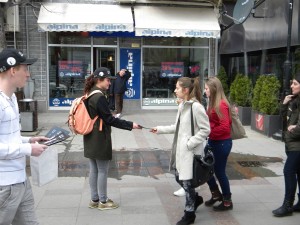 We are two trainees who work at the Humanitarian Aid office in Switzerland, it is part of SDC (Swiss Development and Cooperation Agency). During this one year of our internship, we were allowed to visit the Cooperation Office and its projects. The one in Skopje was selected for this journey.
On March 16 we departed in Zurich for Skopje, we were going to stay there for one week. Saturday and Sunday we used for sightseeing, Skopje is a city which offers weird mixture of styles, the newly built statues and the buildings which are constructed in the renaissance style. We both have never seen such things were done today and it was quite a surprise. This boom seems to be going too far because the people we talked with say that there are too many of those constructions and it is a waste of taxes. This opinion is very understandable.
Right now is the period of local elections; we were able to visit a few NGOs that try to guarantee a reasonably fair framework and to implement some features to raise democratic culture within the upcoming electoral process. The civil society organizations are a very important part in this long process to support the country. It is very interesting to see their campaigns, where the country stands, their enthusiasm, the clever approaches, their critical views regarding the situation.
If people unite and decide to pull the same string, a lot can be achieved. In our opinion it is very important to activate and reach the young generation. The social media is an excellent way to inform them about what is happening in their country and how they can be a part of this movement. We are very content that in Switzerland people are able to express their opinions and needs if enough persons share those. It is commonly accepted, heard and perceived and there is a good chance to change something for good. Of course, there are still many points to be improved.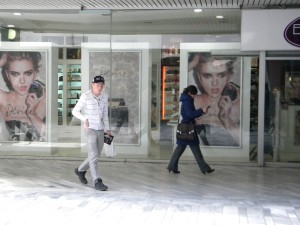 The first impressions of Macedonia are very good and pleasing but if one starts to look deeper one can find many unsolved issues (human rights, clear separation of power, politics listening to the needs of people, and many other issues).
We have met many very kind Macedonian citizens and we enjoyed the local cuisine a lot. We would gladly come another time.
We wish Macedonia all the best on its way to change.

This post is also available in: Macedonian