Dragan Zelic, expert from the organization GONG from Croatia, at the panel organized in the press-center of CIVIL – Center for Freedom, immediately after the closing of the polling stations on December 11, spoke about the "phantoms" and the missing citizens in the Voters Register, about the atmosphere of fear and "Murky hunt", and also about the abuse of children and the protection of the basic democratic values.
Assessment of election day...
"First, we need to congratulate all citizens of Macedonia at these important elections, that following all political crisis in recent years and following all political aggravations, certain minimum standards for holding elections were established, and compliments for the great turnout. I would like to congratulate you, CIVIL, and other observers who were monitoring the elections, as this is not an easy job, especially in such conditions. Compliments to your observers who performed an important and responsible task – of reporting on the election irregularities that were taking place.
Most of the citizens were able to fulfill their right to vote under these conditions. However, the cases in which certain citizens of Macedonia, hundreds, perhaps even thousands of citizens, could not realize their right to vote, did cast a serious shadow on the election process. So, I can vote, but you cannot, means we are not in equal positions. We must not forget that Macedonia is a candidate country for joining the EU, and such things should not happen in a candidate country. This needs to be said clearly and loudly. Such things do not happen by inertia, there are institutions that need to work on that and ensure that every citizen can vote. Unfortunately, this did not happen with you.
Unfortunately, I cannot say that technical errors are the issue here. It is unlikely that the 'phantoms' had to be deleted, but it is obvious that they haven't been deleted. However, healthy and citizens who are alive were deleted instead, who were not afraid and who wanted to vote and realize their voting right, but couldn't. Someone might say that it is normal for mistakes to be made, but when a mistake does happen, people need to be told about that and there has to be a way for ensuring them to vote.
We saw that ID cards were being issued today, and it is good that citizens who have that right are issued ID cards, but it is outrageous for people who are not 'phantoms' not to be able to vote.
In Croatia, if you do not figure in the Voters Register on the day of the elections, you need to go to the General Administration Office where you will receive a confirmation. And with that confirmation you return to vote. It is unbelievable why this is not done in Macedonia. I cannot let go of the impression that this concerns politically motivated actions. There was not enough political will to clear up the Voters Register, there is no science fiction here, it can be done, and I do not know why today so many people were left without their right to vote…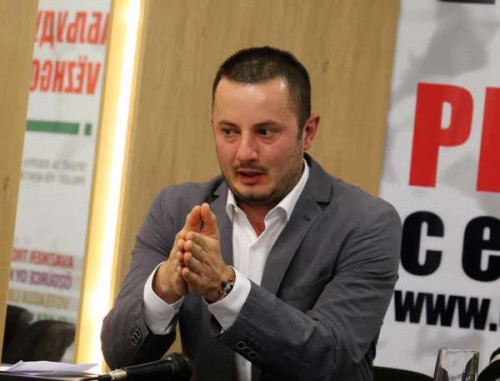 The first thing the new government needs to tackle…
Macedonia will have much work to do in regards to the electoral legislation and the census of citizens, just as Croatia has work concerning the electoral legislation. We also had problems with the Voters Register, but the situation is far better now, and in this respect certain knowledge and experience can be transferred. The new government will have to have this as a priority, if it wants to have a legal state as we mentioned in the beginning.
There is a saying that "Murky hunting is the easiest". Macedonia doesn't have to clear up the Voters Register, but then someone will be murky hunting. If the result is narrow in certain electoral units tonight, where even a few hundred votes can be determining, and probably will be so, then one might raise the following question: could those who could have not voted today been able to decide the winner in those electoral units? The thing that surprises me in an unpleasant way is the silence of the institutions, Xhabir has already mentioned this, primarily, the State Election Commission is acting as if this isn't their game, and as if it is not deciding on this. Do they not understand how important it is for them to respond and to say at least something in order for the public not to lose trust in the election process? Trust in the election process is the most important thing, because if the citizens do not trust the election results, then the entire political architecture crumbles and they will start doubting everything.
In Macedonia, in the past years you have had, to put it mildly, a "strong" government, which was quite "present" in many institutions that were supposed to be independent. The consequence of all this is the fear that has developed among some citizens. I believe that this marked these elections. I completely understand the citizens for being scared when someone calls them asking if they have voted. Perhaps a citizen does not want to go to vote for anyone, but is afraid that tomorrow he might lose his job, or that his wife might lose her job, or some of his relatives, and these are not pleasant situations.
While I was here, I could feel that fear in the atmosphere, and where there is fear, there is no democracy! Macedonia is not the only case, there are people in Croatia as well, who are afraid of local sheriffs. You all need to fight against this. In this respect, CIVIL gives great contribution. MOST and other NGO's, and I see that the media has also slightly freed itself, and I think that the media will finally realize what their role is, how firm their position is, and that they will be able to defend themselves from political pressures and will establish certain democratic standards in this country.
Responsibility of institutions…
The State Election Commission is responsible for the Voters Register, in cooperation with the Ministry of Interior, and in this situation in which the SEC has not offered any explanation, any solutions, have hidden like rats in a hole, it would be politically correct for them to at least make their mandates available, not to mention resignations. This is a serious matter, it is not about limiting a certain right, it is about fundamental constitutional rights that are the foundation of democracy, and that is not a small thing…
As I could see, children have not only today been abused in the electoral context, but they have also previously been abused. It is disgraceful, and speaks of how miserable politicians are…Everywhere around the world, not just in Macedonia, I also refer to Croatia, I mean for politicians to stoop so low as to use children for campaigns! This is reprehensible, and it is good that you from CIVIL condemn this and speak about it. In Croatia, unfortunately, these things continue happening, but the Ombudsman for Children reacts automatically. I do not know if in Macedonia you have an Ombudsman for children's rights, but there are other Ombudsmen. It is fine for the NGO's to react, for the media to report, but why do we have institutions? Those institutions are paid by the Macedonian citizens, and those institutions need to react and publically condemn such things! And maybe at the next elections they will not happen again.
Promotion and compromising the democratic values…
If the new government, former, present or any other government is not working on changes, then it is not working on the development of the country, the pressure from the citizens will remain, the pressure on NGO's, there will also be certain media that will be pressuring, and the streets are also not exempted…If we warn in a nice way, if we offer a solution, but you do not listen, then we will go on the streets and see how it will be, because that too is a democratic tool. Of course in a peaceful manner, but there are nuances here as well.
I will give the example of Croatia, we had HDZ in power for years, and then we had SDP, for less years, but the people realized that neither HDZ nor SDP as large parties were the real thing, they were disappointed by those large parties, so new players emerged, like "Most" and "Human shield". And that is the main political message to the Macedonian political parties, to take democracy seriously, to free the media, to protect these values, to promote democracy and not to endanger it! That is the basic job of every government. Otherwise, new players will emerge and will take part of the votes, which is a democratic right, and I believe that this could also happen in Macedonia.
This post is also available in: AlbanianMacedonian