Civil – Center for Freedom wishes a happy 8 March – the International Day of Women's Rights to all female citizens in the Republic of Macedonia and elsewhere.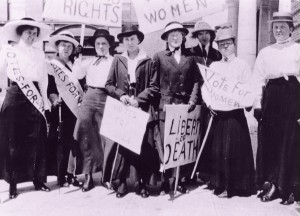 We take this opportunity to emphasize that the rights and freedoms of women are severely violated on daily basis and at all levels.
The official politics of state institutions treat women as means of reproduction and as subordinated and decorative objects.
At the work place, women are frequently abused and underpaid.
In violation with the human right to a citizenship, a number of women in the Republic of Macedonia do not possess one, in spite of the fact that they meet all conditions required.
Civil – the Center for Freedom considers that all calls on 30% participation and representation of women in politics, or in the state institutions are defeatist and undermining.  We demand at least 50% representation of women in politics and state institutions, in line with the percentage of females in the total population. That would be the first step only – the role and the representation of women should not be declarative or decorative.
Humiliation of women in institutions, at the work place, their role in the society, even in the schoolbooks for primary and secondary education needs to be changed now.
Happy 8th of March!

This post is also available in: Albanian Macedonian