Regarding to the text "Nongovernmental association Civil lied in a coarsely way, while Gerovski through his medias, misused this" and other texts in this context, published in the page of VMRO-DPMNE, on 26.03.2014.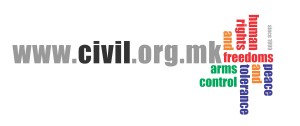 Not aiming to enter in demands and contexts with one political party, just because it is in power and also is a participant in the electoral process, we want to tell the public that our role as supervisors of the electoral  process, will perform it with honor and impartially. The support, the approval and the great faith, which citizens express to us in everyday contacts, presents a big responsibility and a boost for staying consistent to our mission.
There is no need for conviction about one thing that everybody knows: we have never been an exposition of any party structure, and we have never been a Pre-governmental organization.
Regarding the donators of CIVIL, the same ones that we approached, addressed to a series of other organizations to the civil society. The Government, whatever it is, asks for financial support from the same donators, which we address. Sometimes this response is positive, sometimes negative.
It is surprising the harsh voice of VMRO-DPMNE, the rude vocabulary, the unprecedented qualifications and the direct labeling, directed in our organization. Should we get this as a deliberate form of the pressure over our organization and our supervisors in the electoral process? Is this an effort to shut our mouth?
From a party which is in power we expect to enable an unhindered work of our supervisors and that will understand our work as inseparable from the democratic process, called election.
With democracy and with sincere purposes, allow us to use this occasion to wish success to all participants in the electoral race, while to all citizens of the Republic of Macedonia, to wish free and fair elections in 2014.
We will not allow that attack on us to put us in hesitation in our determination to stay impartial, dedicated and consistent.
Once more we appeal to all citizens of the Republic of Macedonia to adhere from illegal and illegitimate actions during the election process and in case they notice such actions, to addres Civil. We are available to share all relevant information with the public.
Xhabir Deralla
President of Civil
This post is also available in: AlbanianMacedonian