The Voters Register in complete chaos, filled with "phantoms", with deceased people who are still "living" and "voting"…Disappointed and angry citizens who cannot realize their voting right. The SEC – non-transparent. The media – in most cases in the function of the government. An uninformed public or public opinion created according to the prism of the ruling VMRO-DPMNE.
The SPO on its way to justice. The people under strong pressure from the electoral offer. The state administration under strong pressure and threats from the ruling VMRO-DPMNE. Managers on the ground, agitating for the party during working hours. People caught in the "act" of carrying out electoral bribery. Uncertainty! Fear! Restlessness among citizens before election day!
This is how Macedonia was before the historic, early parliamentary elections which, according to the Przino Agreement, were held on December 11.
The election day went by peacefully, without incidents involving fights. However, citizens did prevent an observer from CIVIL – Center for Freedom, who was monitoring the election process in front of primary school "Ljuben Lape" in the Skopje neighborhood of Aerodrom, from observing the activities outside of the voting station in an unhindered manner. Threats to an observer of CIVIL that he would be thrown in the channel! Enormous election irregularities! Reports on attempts of bribing voters with coupons in Prilep. Citizens wandering from one voting station to another, because they could not be found in the lists where they have been voting for years. Citizens deleted from the Voters Register. Information arriving in CIVIL in that passenger vehicles from Albania had been crossing the border point Stenje in the early morning hours, with the purpose to vote at the elections. Voting behind the screens with the assistance of a family member. Dozens of ID cards picked up on the day of the elections, at the Prilep police…
Tense, but nevertheless, without violence. This is how the historic day of December 11 passed, the day when Macedonia voted to elect a new government.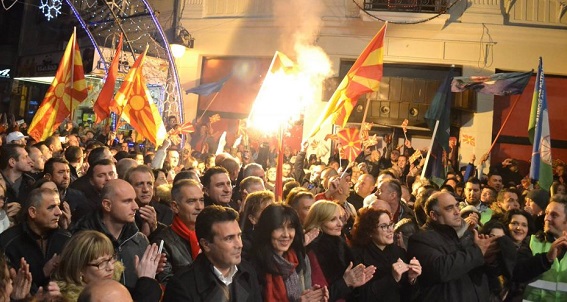 And the greatest paradox happened. The leader of the party that until the elections was in power, VMRO-DPMNE, and who led the coalition "For a Better Macedonia", Nikola Gruevski, declared election victory before midnight. While the leader of the biggest opposition party, who led the coalition "For Life in Macedonia", Zoran Zaev, almost an hour before that announced victory. Citizens are awaiting the results with uncertainty.
Celebrating at squares. Euphoric citizens, voters from one and the other option.
And even after 18 hours, the SEC has still not officially presented a relevant report on the results of the historic election process!
Monika Taleska