We Are Watching is an elections observation project. CIVIL - Center for Freedom will provide comprehensive, non-partisan, entirely objective and neutral observation and reveal information on the conduct of the elections, as well as about policies and practices within political and societal processes, trends and events in context of the elections.
We Are Watching is a complex, multifaceted project that includes continuous analysis and publicizing of findings during the process, mobilization of citizen elections observers, and civic education and awareness-raising on voting rights. The project includes production of a final report, analysis and recommendations.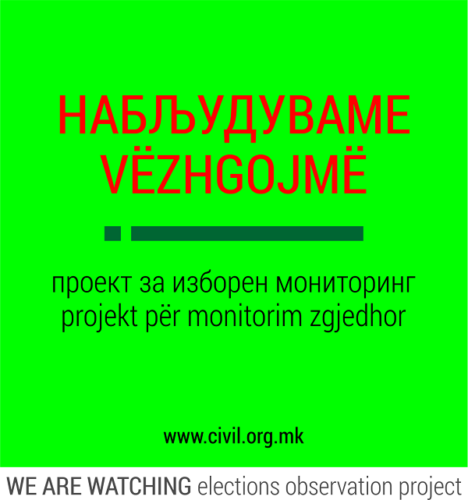 The project will be implemented at both national and local level. Using its existing network of members and supporters, CIVIL will work through its 14 regional centers that will cover all 84 municipalities in the country. CIVIL has regional teams in Skopje, Kumanovo, Veles, Tetovo, Gostivar, Kichevo, Ohrid, Prilep, Bitola, Gevgelija, Strumica, Shtip, Kavadarci, Kochani.
This project will engage 50 STOs, 7 LTOs, one mobile team, experts and analysts, and will train citizen elections observers.
We Are Watching will provide a dynamic program for elections observation, awareness/media production and civic education at least one day before, on the Elections Day and one day after. CIVIL will produce a comprehensive report, analysis and recommendation document after the elections, as well as reports from its field work on daily basis.
The project is funded in part by the US Embassy in Skopje.
---
This project was funded in part through a U.S. Embassy grant. The opinions, findings, and conclusions or recommendations expressed herein are those of the implementers/authors and do not necessarily reflect those of the U.S. Government.

This post is also available in: Albanian Macedonian