Pluralism and the political crisis is the topic of the public discussion that CIVIL – Center for Freedom will be hold tomorrow (Monday, April 4, 2016) at Hotel City Park, starting from 11 h.
Up to now, around twenty leaders or senior representatives of political parties have registered as speakers, who were not part of the negotiations for overcoming the political crisis in Republic of Macedonia.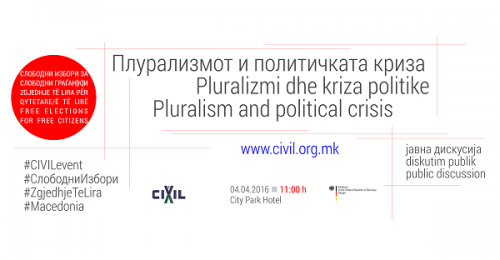 Starting point for discussion: The Agreement for overcoming the political crisis (Przino, 2015), is only partially implemented. The institutions that are committed to ensuring free elections and the rule of law are facing political and media obstructions, as well as obstructions from other institutions as well. Is it at all possible to hold elections on June 5? What are the opinions and solutions for overcoming the political crisis that the political parties not involved in the Przino process can offer?
The event is part of the Project Free elections for free citizens, supported by the Ministry of Foreign Affairs of the Federal Republic of Germany.
This post is also available in: Macedonian