Summer School: 26. August – 2. September
Concert: Saturday, 1 September, 17-24 h. At "Shkolka" in City Park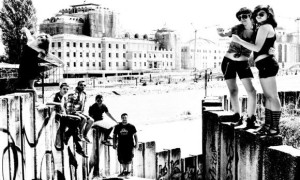 The Super Rock Camp, as we announced last week, starts on Sunday when the students from the region (Mitrovica, Mostar, Struga) and Holland arrive.
We call it Super Rock Camp because this year we have a record high amount of students, young talented rockers and professional musicians – over 70, almost twice as many as the previous years. All of them will perform at a 7-hour rock happening on the 1st of September at "Shkolka" in City Park. For more information about this event, click on the Civil's website – www.civil.org.mk, the article SUPER ROCK CAMP IN SKOPJE.
In the public release of our partners, Musicians without Borders from Holland, among others, wrote:
Rock musicians from Mitrovica and Mostar and trainers from the Dutch Fontys Rock Academy will coach the participants. Under the motto "It's all about the music," young musicians of all backgrounds learn about working in a band, song writing and recording during one of the most intense musical experiences of their lives. For most youth attending the Summer School, it is their first opportunity to meet and play with students from theother side of their home town.
The Mitrovica Rock School is an initiative of Musicians without Borders, Community Building Mitrovica, the Fontys Rock Academy and IKV Pax Christi. Rock School students work year-round on band practice and performance, individual and group instrument lessons, marketing, sound engineering and production. The Mostar Rock School replicates the Mitrovica model as a new approach to reconciliation. The Mostar project is a partnership among Musicians without Borders, the Fontys Rock Academy and the Pavarotti Music Center in Mostar. The Skopje Summer School is a partnership with Civil - Center for Freedom, a leading Macedonian NGO in the field of human rights, peace, and arms control. 
In the next few days, you'll find a lot of rockers and peacemakers in one place. Journalists are invited, if interested, to contact us to arrange visits to the Skopje Summer School venue while they train, to meet and interview them. Of course, we will try to make the concert both a real audio-visual pleasure, attractive "material" for journalists, cameramen and photographers.
The fifth anniversary of the Skopje Summer School will be marked one day before the concert with a press conference and a reception for the journalists; we will send more precise info on this in the days to come.
MEDIA SPONSORS
This year, we received great support from the media. Ten media offered us their space and time much more than we expected, for which we express our sincere gratitude.
TV ALFA http://www.alfa.mk/
TV 24 NEWS http://24vesti.com.mk/
ANTENNA 5 RADIO http://www.antenna5.com.mk/
LIFE RADIO http://www.life.com.mk/
Weekly magazines
FOKUS
and
GRAGJANSKI
Daily newspapers
FOKUS
and
KOHA http://www.koha.mk/
CITY RADIO http://www.cityradio.com.mk/
MOF RADIO http://www.radiomof.mk/
POPARA (web portal) http://popara.mk/

FINANCIAL SUPPORT  
The 2012 Skopje Summer School and the two Rock Schools are financially supported by U.S. Embassies in Sarajevo, Pristina and Skopje, the Norwegian Embassy in Sarajevo, the Swiss Cooperation Office Kosovo, the Robert Bosch Foundation and Luxembourg Caritas.
Skopje Summer School is a project in which Civil is involved since its beginning in 2008. This project is part of the Annual Program of Civil, which is supported by the Civica Mobilitas Programme, financed by the Swiss Agency for Development and Cooperation (SDC), implemented by the Center for Institutional Development (CIRa).