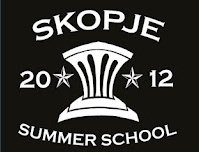 Sunday, August 26, 2012 -- It's a working day for about 100 people in Skopje today. The super rock camp of the Skopje Summer School starts today with the arrival of over
70 participants from Mitrovica, Mostar, Struga, and the Netherlands. Civil's team of over 10 people is making the final preparations from early in the morning to host and support this mega rock-operation.
Starting today, the Skopje Summer School will gather youth from Mitrovica, Mostar and Struga to work together in mixed groups for one week in Skopje. Young rock musicians from Mitrovica, Mostar and Struga will have a very intense week, by forming bands, writing songs and rehearsing. They will also learn about management, production, PR and other important stuff for a rock-band.
Theparticipants will learn and rehearse coached by musicians from the Fontys Rock Academy from the Netherlands and with musicians who have gained regional popularity including the bands such as Dubioza Kolektiv and Zoster (from Mostar) and renowned rock bands from Mitrovica. All of them together will perform at the grand concert at the end of the Skopje Summer School at a 7-hours long concert.
The Skopje Summer School will be held in the facilities of the State Music and Ballet School Center. The open-air concert will take place on September 1 (Saturday), at the stage Shkolka in the City Park, starting 5pm to midnight. It will be a maximum rock and roll, maximum audio-visual pleasure, and maximum the right place to be at that time.

INITIATIVE
The Mitrovica Rock School is an initiative of Musicians without Borders, Community Building Mitrovica, the Fontys Rock Academy and IKV Pax Christi. Rock School students work year-round on band practice and performance, individual and group instrument lessons, marketing, sound engineering and production. The Mostar Rock School replicates the Mitrovica model as a new approach to reconciliation. The Mostar project is a partnership among Musicians without Borders, the Fontys Rock Academy and the Pavarotti Music Center in Mostar.
The Skopje Summer School is a partnership with Civil - Center for Freedom, a leading Macedonian NGO in the field of human rights, peace, and arms control.
MEDIA SPONSORS
This year, we received great support from the media. Ten media offered us their space and time much more than we expected, for which we express our sincere gratitude.
TV ALFA http://www.alfa.mk/
TV 24 NEWS http://24vesti.com.mk/
ANTENNA 5 RADIO http://www.antenna5.com.mk/
LIFE RADIO http://www.life.com.mk/
Weekly magazines
FOKUS
and
GRAGJANSKI
Daily newspapers
FOKUS
and
KOHA http://www.koha.mk/
CITY RADIO http://www.cityradio.com.mk/
MOF RADIO http://www.radiomof.mk/
POPARA (web portal) http://popara.mk/

FINANCIAL SUPPORT
The 2012 Skopje Summer School and the two Rock Schools are financially supported by U.S. Embassies in Sarajevo, Pristina and Skopje, the Norwegian Embassy in Sarajevo, the Swiss Cooperation Office Kosovo, the Robert Bosch Foundation and Luxembourg Caritas.
Skopje Summer School is a project in which Civil is involved since its beginning in 2008. This project is part of the Annual Program of Civil, which is supported by the Civica Mobilitas Programme, financed by the Swiss Agency for Development and Cooperation (SDC), implemented by the Center for Institutional Development (CIRa).
ADDITIONAL INFORMATION AND CONTACTS
Please, visit the links listed below and feel free to use information published there. Do feel free to call or write to schedule a meeting, make an interview or arrange a term for visiting the Skopje Summer School (limited access).
Contacts
Wendy Hassler-Forest (Project Manager, Musicians without Borders):
[email protected]
Nikola Radicevic (Mitrovica Rock School)
[email protected]
Dafina Kosova (Mitrovica Rock School)
[email protected]
Orhan Maslo (Mostar Rock School)
[email protected]
Civil - Center for Freedom:
E-mail: [email protected]
Phone: 02 5209176
Web: http://civil.org.mk
Blog: http://peace-mk.blogspot.com/
Facebook: http://www.facebook.com/civil.mk
Twitter: https://twitter.com/CivilMacedonia
Mitrovica Rock School online:
Website: http://mitrovicarockschool.org
Blog: http://skopjesummerschool.blogspot.com/
YouTube: http://www.youtube.com/user/hasslerforest
Facebook: https://www.facebook.com/MitrovicaRockSchool
Mostar Rock School online:
Blog: http://mostarrockschool.blogspot.com/