CIVIL – Center for freedom held a public event today in Shtip at the Friendship square under the motto "All for free elections". Despite the extremely low temperatures and sleet that turned into snow, the team from  CIVIL spoke with friends from Shtip around ninety minutes about all the issues that trouble them within the subject of human rights, particularly in a electoral context.
With a lot of music and audio production, contributions from the Civil Media, jingles for free elections and voters' rights, CIVIL team handed out a few hundred fliers and diverse informative materials for the upcoming elections and talked with all interested citizens from Shtip, who expressed a desire for conversation.
Today's CIVIL event was held in the spirit of our maxim that all weather conditions are suitable for activism.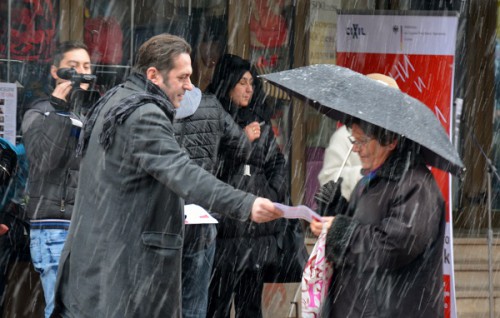 In their statements towards the media in Shtip, representatives of Civil once again called out to their fellow citizens to join their efforts to ensure free elections, but also towards the institutions and political parties for emergency depoliticizing of the institutions for purging the voter lists and for freedom of the media and the public word in Macedonia.
The public event was held within the project "Free elections for free citizens" supported by the Ministry of Foreign Affairs of the Federal Republic of Germany.

This post is also available in: Albanian Macedonian