The Heinrich Böll Foundation, Office in Sarajevo, and CIVIL - Center for Freedom are organizing a presentation and panel discussion titled "Shrinking space of civil society action" tomorrow (Tuesday, February 14), at Hotel Park Residence (behind the football stadium), starting at 12:30h.
It will be a presentation of the publication "Shrinking Spaces in the Western Balkans" that is published by the Heinrich Böll Foundation, which speaks of the global phenomenon of shrinking spaces for civil society actors that is gaining momentum in our region as well. "Captured society", "Occupation of public space", "Public space belongs to us", "Populism and crime as a model of the Macedonian political system", "Bosnian blues: culture, pressure, suffocation", "The media and the public space in democracy", are part of the titles of the topics that are dealt by 16 authors, well-known journalists, activists and academic workers from Albania, Bosnia and Herzegovina, Macedonia, Serbia and Croatia.
This outstanding work will be presented by Marion Kraske, Director of the Heinrich Böll Foundation, Office in Sarajevo.
There will be a panel discussion immediately after the presentation with Professor Nano Ruzin, Nikola Naumoski, Slavco Dimitrov and Xhabir Deralla.
Monika Taleska will be the moderator.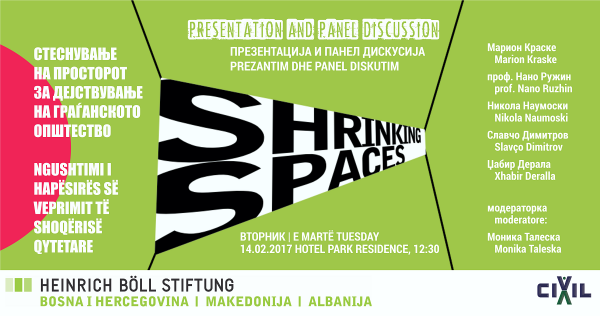 The media, civil society representatives and interested citizens are all invited to the event.
The non-governmental sector in Macedonia is a target of threats of the ruling structures, through many restrictive processes. Civil society organizations are being vulgarly reviled for quite some time now, as if they are part of a conspiracy for destroying the country. Campaigns are led and investigations carried out by inspection and police authorities against many civil society organizations, as well as against activists, journalists and intellectuals. Hate speech and open calls for execution have been present in the public for many years, and have intensified after the elections on December 11, 2016.
The hashtag of the event is #ShrinkingSpaces.
This post is also available in: AlbanianMacedonian