Introduction
"Opt4Democracy!" is a project for strengthening public awareness and civic activism for human rights, solidarity and tolerance, supported by the USAID Civil Society Project, implemented by Open Society Foundation-Macedonia. One of the project components is collecting and analyzing individual and group cases of discrimination, i.e. the violation/breach of human rights and freedoms of the citizens of the Republic of Macedonia.
The project aims to enhance public awareness on human rights, solidarity and tolerance in the country, as well as mobilization of citizens through civic activism. Through civic activism at actual public events focused on specific topics in human rights, solidarity and tolerance; citizens and local civic organizations will contribute to turning public attention to the serious problems arising from erroneous (flawed) policies, as well as offer and ask for solutions for the issues Macedonian society is facing. Real problems and  real causes for the policies that grossly violate human rights, causing divisions and threaten the security and development of the Republic of Macedonia, will be located publicly.
The main activities within the project include the forming and administration of Human Rights, Tolerance and Solidarity Working Groups (HRWG); the production of an awareness raising campaign for local media and the Internet, organizing civic activism public events in 4 cities according to needs, production of e-publications, including video production.
HRWG are responsible for four wider regions in the country, incuding Veles (central and eastern region), Bitola (southern region), Tetovo (western region) and Skopje (northern region).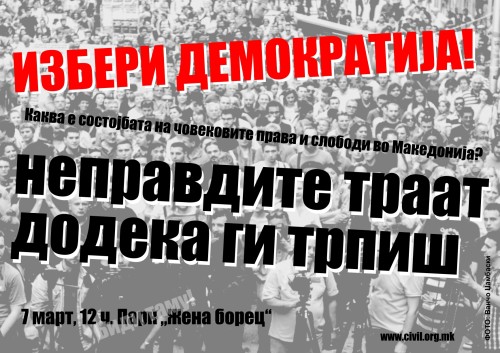 Municipalities covered by the Human Rights Working Groups (HRWG)
HRWG Skopje: Aerodrom, Arachinovo, Butel, Chair, Center, Chucher Sandevo, Gazi Baba, Gjorche Petrov, Ilinden, Karposh, Kisela Voda, Petrovec, Saraj, Sopishte, Studenichani, Shuto Orizari, Zelenikovo, Kumanovo, Lipkovo, Kratovo, Kriva Palanka, Rankovce, Staro Nagorichane .
HRWG – Veles: Veles, Demir Kapija, Gradsko, Kavadarci, Chashka, Negotino, Rosoman, Shtip, Berovo, Ceshinovo – Obleshevo, Delchevo, Karbinci, Kochani, Lozovo, Makedonska Kamenica, Pehchevo, Probishtip, Sveti Nikole, Vinica, Zrnovci, Strumica, Bogdanci, Bosilevo, Gevgelija, Konche, Novo Selo, Radovish, Star Doiran, Valandovo, Vasilevo.
HRWG Bitola: Bitola, Demir Hisar, Dolneni, Krivogashtani, Krushevo, Makedonski Brod, Mogila, Novaci, Prilep, Resen, Ohrid.
HRWG Tetovo: Tetovo, Bogovinje, Brvenica, Gostivar, Jagunovce, Mavrovo and Rostusha, Tearce, Vrapchiste, Zhelino, Kichevo, Plasnica, Oslomej, Zaja,s Vraneshtica, Drugovo, Struga, Vevchani, Debar, Centar Zhupa, Debarca.
Methodology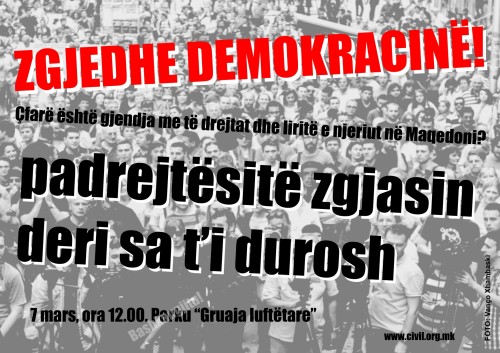 This report was prepared based on information obtained in the form of statements, interviews and filled out Record forms for cases of discrimination and violation of human rights and freedoms, prepared specifically for this project .
The form exhausts all aspects of building a case, with an opportunity for the co-speaker to remain anonymous, and his/ her essential personal details to remain known only to a member and the coordinator of a WGHR, as well as to the project coordinator .
The information sources used in the preparation of this report included: 1) Human Rights Working Group  members in Skopje, Tetovo, Veles and Bitola; 2) citizens, by telephone or direct communication or statements and information delivered by mail, emails or at public events; 3) associates and volunteers of Civil , 4) civil society organizations; and 5) the media.
Introduction
In the course of their work, HRWG members registered 297 statements of violation of human rights and freedoms, or discrimination on various grounds. Of those cases, 70 relate to more than one individual, particularly in cases of violation of social rights of citizens.
Furthermore, 9 of  10 cases involved violations of human rights and freedoms by institutions or officials or employees of these institutions. In cases where the involvement of institutions is not apparent, there was a lack of response from the relevant institutions, and in a number of cases actions and behavior encouraging discrimination were revealed.
The report on the situation of human rights and freedoms in Macedonia uncovers serious violations in practically all areas concerning human rights and freedoms. Discrimination and human rights violations are often manifold. For example, cases involving discrimination based on political affiliation, simultaneously represent violations of labor rights, discrimination by gender or social status.
Additionally, this Report, based on the numerous statements and the conclusions brought by HRWG members, reveals that the institutions at central or local level, their staff or management team have a extensive practice of discrimination and violation of human rights. They do this without a ​​particular effort to conceal their views and their approach towards citizens and users of public services. It is a general impression that people are accustomed to this situation and do not believe that irregularities can be eradicated. In many of the registered cases, there is the realization that there is no confidence in the ability to solve institutional problems that citizens are facing. With the exception of 15 cases registered by HRWG members, interviewees wish to remain anonymous, i.e. want their personal data to remain confidential. The fear to speak out about the problems is noticed in most cases.
CASES OF DISCRIMINATION AND VIOLATION OF HUMAN RIGHTS AND FREEDOMS
Economic and social rights
Labour relations in private enterprises and factories
Human rights violations on several grounds, primarily on workers' rights, are registered in the textile industry in Shtip , Tetovo and Bitola. According to 5 reports covering 70 statements on labor rights violation, there are dire working conditions in the garment factories, working hours are not regulated, work is conducted constantly overtime, often on weekends and on call if necessary, regardless of whether a shift has been finished or not. Personal income is between 5 and 8 thousand denars per month, including food and transportation.
Female workers in textile factories operate in harsh work conditions. According to testimonies, they have no heating in the winter months, drafts from all directions, forced to cover holes in walls with nylon. They work wearing hats, coats and scarves, and sit on twisted and broken chairs. "It is like working outdoors " – it was said in a statement. Controllers in the plants constantly call them to work harder and faster, so they have to stay overtime to meet the high production norms. Female workers in textile factories complain of health deterioration.
Apart from the extremely poor working conditions, the textile workers are often verbally and even physically abused. In 2 reports there were testimonies of cases of sexual harassment and assaults based on gender.
It is noticeable that most of the working posts in textile factories are held by women, while rarely or never in management structures (managers, acountants etc.).
Violation of labor rights in the larger companies are registered in 24 statements by the HRWG, from Skopje, Ohrid, Bitola, Veles and Kumanovo. Low wages, lack of health insurance, poor working conditions and mobbing are the most frequent issues that the citizens report of in their statements.
Job  dismissals
Firing from a job post is mostly a very simple procedure. In Skopje, Tetovo, Bitola, Prilep, Ohrid, Veles, Shtip, Kochani, Vinica and Kavadarci; 30 cases were detected in which workers are fired from their jobs  without an explanation and without a notice period, with a maximum bypass of procedures and of legal obligations of employers. Four cases were registered concerning dismissals of workers with over 10 years work experience, in order to replace them with people with little or no service years, which enables the employer to take advantage of the legal framework to pay workers far lower wages than those with longer service years.
25 reports from 9 different municipalities testify that workers in private enterprises receive incomes far below the legally guaranteed salary, some of them receive salaries even below 6000 denars per month. While their incomes and working conditions are below the level, they are not encouraged (do not dare) to complain, and some of them claim that they are happy with what there is. They are forced to work overtime on a daily basis and rarely have days off. They are constantly under fear of losing the job.
According to the statements recorded in a dozen of individual cases, salary payment for workers is irregular and therefore they are not paid health insurance. This way  they lose the opportunity to be treated in state health institutions, i.e. they are required a guarantee (payment), as in a private health facility. In one of the reported cases, the child of an employee who did not have paid health insurance, broke her arm and in order to be provided medical assistance, they paid 2000 denars. This payment can not reimbursed, because health insurance has not been paid. According to the statement, this is the case with most employees in the company, but they remain silent because they are afraid they will lose the one job that they have, but also because they do not see where they could complain.
The right to strike
The right to strike is virtually unknown. In none of the cases reported by our interlocutors, workers in private companies, enterprises and factories have not thought of strike as a means to enforce their rights in the area of labor relations, due to fear of dismissal.
The unemployed
The status unemployed, i.e. the right to be on the unemployed list in the Employment Agency, also entails the right to social and medical care.
There were 22 cases of deleting the records of unemployed people in 6 municipalities. "Nowadays, even being unemployed is a privilege"- this was said in a statement of a person who has lost the unemployed status due to being late in registering with the Employment Agency. "It's never been easier to lose unemployed status" - our interlocutors in several municipalities complain.
The criteria for receiving this status have become extremely strict, and every slightest delay or lack of a minor piece of the extensive documentation that must be submitted regularly, results with deletion of records and denial of basic rights to social and health care. Furthermore, the provision of the necessary documentation is complicated and costs money, also the commute to the Agency where the unemployed must report regularly.
Redundant workers
Bankruptcy workers who were in contact with HRWG members and have given their statements, complained that the new government measures to resolve the status of workers do not cover all workers. In 35 cases recorded by HRWG in Skopje, Veles, Kumanovo, Tetovo, Bitola and Ohrid, redundant workers have never received welfare or have lost the right to it, on various grounds. In 5 registered cases, they have lost the right to social welfare, including the fact that if they even have only one month of service in recent years.
Employees in public administration and institutions
In Skopje, Veles, Kavadarci, Tetovo, Bitola, Kumanovo and Ohrid there have been 22 registered cases of human rights violations in the area of labor relations, mainly in educational and health facilities.
Employees in public institutions testify of abuse and maltreatment of the staff by the management, various prohibitions and penalties that are inappropriate or are not present in the law or regulations, imposing duties not according with the position of the employee, unusual disciplinary measures and rules such as the prohibition of going out of the facility during break.
According to 3 statements, there are frequent cases of  abuse of volunteering and internship in public facilities, continuing volunteer service over five years, not paying and exploitation.
Employment of people with disabilities
In Skopje, Bitola, Ohrid and Gevgelija cases of discrimination in employment of persons with disabilities were observed. In part of the cases, in order to be employed people with disabilities were asked by the employer to bring confirmation that they are fit for work.
Social welfare for persons with disabilities
In 2 cases in Bitola and Veles, people with disabilities who have become disabled in the workplace, were not granted disability pension and were declared fit for work .
In the municipality of Veles there is one case where the employer uses state benefits for employing persons with disabilities. Once he has exhausted these benefits, he dismissed the persons with disabilities from work.
According to 3 testimonies in different municipalities, the Social Welfare Center has been given the task to find reasons for the reduction or abolition of welfare for people with disabilities.
The most banal cause, such as being late or lack of a document may result in a measure abolishing the welfare of these citizens.
Labour relations in smaller firms
According to the testimonies recorded in 34 records coming from 8 cities, including Skopje, Bitola and Ohrid; smaller private companies, owners and managers conduct arbitrariness and ignoring workers' rights guaranteed by the Labor Law .
The procedures of admission in the workplace are extremely problematic, payment of personal income is often in cash, without payment of fees for social, health and pension insurance, and cancellation can be given at any time, without explanation and without any particular reason. During work, employees are faced with difficult working conditions, but are also victims of mobbing.
Discrimination on the basis of age
There have been 2 registered cases with discrimination based on age, in Skopje and Ohrid. Both cases involve persons, candidates aging over 40 who have been told that they are too old to work.
Ethnic discrimination
There are 35 cases observing ethnic discrimination in all parts of the country. The most frequent cases of discrimination are recorded in employment. Four cases reported discharge from work due to ethnicity,  statements  based on previous behavior of the employer.
Citizens complain of ethnic discrimination in communication with institutions, including the relationship of  workers in those institutions. Such cases have been recorded by HRWG in Skopje, Tetovo, Shtip, Struga and Kavadarci.
One case has was registered of harsh discrimination and insults on ethnic grounds to a person of the Turkish community, in an institution at the municipal level in Shtip, and also to a member of the Albanian community in a state institution in Skopje. Numerous  members of the Roma community in 5 municipalities complained of a discriminatory approach in communication with municipal authorities, police and schools.
Roma in Kavadarci, especially those in the so-called Roma neighborhood, live in miserable conditions and are faced with everyday discrimination, stereotypes and prejudices.
Ethnic discrimination of Roma, as well as Egyptians, is also noted in Resen. One person in Bitola reported ethnic discrimination on the basis of his claiming to be Bulgarian.
Discrimination based on gender and sexual orientation
Discrimination based on gender was registered in 20 cases in 6 municipalities, in different forms, ranging from discrimination and harassment in the workplace in the private sector, in 4 cases also and in public or government institutions/ organizations.
HRWG registered 3 statements for cases of discrimination, insults and physical harassment based on sexual orientation in Skopje and Tetovo. One of these cases testifies of discrimination made also by public institutions, including healthcare where he was denied to be treated as a patient.
Freedom of expression and media freedom
According to his statement, the editor of the web portal Mojot grad from Kavadarci is under strong political pressure coming from the head of the municipality. The mayor sued for slander and insult against the web portal and its editor Nenad Jovanovic for publishing views and journalistic stories about the ways of governing of the local self-government. Also, HRWG learned that Jovanovic has received verbal threats by telephone by employees of the institutions of government, asking him to stop posting content harmful to the rating of the structures of power .
Based on the statement of two journalists at a local TV station, owners applied pressure on journalists to do stories in a negative context without foundation .
Journalists in 4 more media submitted information of pressure by owners, i.e. editorial or reporting structures contrary to professional standards and ethics.
Religious rights
In 5 statements by HRWG in Skopje and Bitola concerning Skopje municipalities Aerodrom, Chair and Gazi Baba and Struga Municipality, violation of the religious rights of citizens were registered. In one case registered by HRWG, a Muslim child of was forced by a teacher to cross him/herself.
In the municipality of Aerodrom there are complaints about usurping public space for religious observance by the church, as well as for the loud morning prayers played on loudspeakers at the church. Identical complaints are coming from Struga and Chair municipalities, stating that the mosques' loudspeakers are too loud.
Right to health care
Sixty-two cases show different forms of discrimination and violation of human rights or the right to health protection registered in 9 municipalities. According to reports by HRWG, real chaos reigns in health facilities mentioned in statements made by citizens. In more than two thirds of the cases clienteleism and corruption is mentioned, discrimination on ethnic grounds, age and social status.
HRWG received 12 statements by health staff witnessing the degradation of the profession based on   arbitrariness by managing teams, Ministry of Health and the Health Fund.
Civil Rights
Exceeding official authority, police brutality
Different types of exceeding official authority by the police come from 4 cities in Macedonia, including Skopje in 13 separate cases registered with the HRWG. Persons who gave their statements to HRWG members did not want to disclose their personal data under no circumstances, fearing they will be subject to further harassment and retaliation.
In Kavadarci we have witnesses of a beating of a young boy by two police officers on  February 11th 2014. Despite the crying and the boy's pleas to stop the beating, they continued with blows, then detained him in the official vehicle.
Stopping and retention, identification, interrogation and search without an explanation was observed in 6 statements. 5 cases testified about police officers in uniform or in civilian clothes behaving rudely towards people they stopped, insulted and threatened them.
There are indications of physical abuse, less on the streets, but often in police stations, however people involved did not dare to file a complaint or sue, they give the information about such cases with utmost reservation and with visible fear of being detected.
Investigative and prison facilities
Detention in Macedonia, according to multiple source , is a cruel and inhuman punishment. Conditions in the detention unit in Shuto Orizari prison and Idrizovo prison are extremely degrading and inhumane. Food, hygiene, health assistance and housing are unimaginably dire and below the standard that the state is obliged to comply to. The conditions in which detainees and prisoners are held in are torturous, exceeding the harshness of any punishment prescribed by law.
Political prisoners
Macedonia has had political prisoners for several years. Thirty people have been persecuted, detained or imprisoned in processes which, according to Civil, are obviously politically motivated and are sanctioning people who dared to oppose the government. Among other older cases that involve people already serving harsh prison sentences, is the case Shpion  in which 19 people were considered suspects, including journalist Zoran Bozhinovski, the case of Miroslav Shipovik, chairman of Center municipality, as well as the case of journalist Tomislav Kezharovski. Of these, only three were released pending trial, while others are in detention or under house arrest.
Discrimination on the basis of political affiliation
Discrimination on the basis of political affiliation or politically undecided (non-affiliated) persons was observed in 133 cases in 20 municipalities throughout Macedonia. Many of the cases recorded political party hiring and firing throughout the electoral process during the local elections in 2013, and as the elections in April 2014 are drawing nearer, this pressure felt more intensively .
There were 15 registered cases of pressure on administration staff, including teachers in primary and secondary schools in Skopje, Veles, Bitola, Kavadarci, Kocani, Vinica, Tetovo and Ohrid. Jobs in public institutions and state institutions are conditioned by joining the ruling party.
Based on the statements given by parents of students in schools in Skopje, Veles, Bitola and Kavadarci, a labeling is noticed of those parents who greet or maintain good relations with "marked" teachers, supporters or members of opposition parties. Pressure is observed in two cases relating to the conduct of part of the teaching staff towards students during classes.
4 statements taken in Skopje, Tetovo, Ohrid and Veles inform that employees or applicants for employment are conditioned to acquire electoral votes from members of their families and beyond.
HRWG registered 23 statements involving threats of dismissal due to "political ineligibility", not only of the employees themselves, but also their close friends or family members.
There were 4 cases of demotion of employees in administration due to "political incompatibility", in Skopje, Veles and Kavadarci. We will emphasize two examples of politically motivated degradation. In a public institution in Kavadarci, where a member of the managing staff refuses to hire political party staff, is degraded to  courier in the institution. "Solidarity"- Vinica maintains the cemetery in the city. According to one statement, people who are political opponents are redeployed to work there.
HRWG members from across the country gathered statements from over 50 citizens in Skopje, Tetovo, Kumanovo, Veles, Vinica, Kochani, Kavadarci, Ohrid, Gevgelija and Bitola claiming that hiring is conducted only by political party. According to part of the statements, there was inadequate vocational training of employees by party affiliation for the set posts.
According to 4 statements, a number of people employed by way of political party in the public administration sector in Skopje, Tetovo and Vinica, do not go to work or are not deployed to their posts.
In one municipality in the regions covered by HRWG Veles, a person employed in the municipal administration, for which there is a label "oppositionist", is addressed with the words " Bitch! Now we'll see what happens to you!"
Based on the information coming to Civil and HRWG, it can be concluded that discrimination based on political affiliation complicates almost every aspect of people's lives. There were 12 cases of pressure and discrimination against citizens who are not members of any party. Besides being forced to become members of a political party, citizens who spoke to Civil complained that they are put into a situation where they have to make the whole family, relatives and friends members of the party.
This kind of discrimination is most noticeable in the area of labor relations, mostly in the ranks of the administration at central and local level, however this tendency was also observed in 6 cases in the private sector in Skopje, Prilep, Veles, Bitola and Kavadarci.
In the course of the communication with numerous citizens during the project, we learn that discrimination based on political affiliation is noticeable in many other segments of society, or spheres of public services (education, health, communal services, etc. ) as well as in the everyday lives of people, on the street, in public places etc.  This can serve most illustrative in the existence of  "party" bars and restaurants in cities across the country, especially in smaller towns.
The right of peaceful protest
Violation of the right to peaceful protest in two secondary schools in Prilep. An interlocutor testifies about the involvement of the State Inspectorate and the police putting pressure on one of the leaders of the high school protests in May- June 2013.
This post is also available in: Macedonian