The speech of the lawyer Vlado Chingoski at the public event "All for Free Elections", which CIVIL organized last Saturday in Ohrid, received much attention not only from the Ohrid public, but also broader. First of all, as organizers of the event, CIVIL reacted to the portal Ohrid1, for a mistake in the journalist interpretation of the speech that Chingovski gave, more specifically, for a paraphrase which didn't corresponded neither to his words, nor to realty. The denial was published immediately, for which CIVIL expressed gratitude to the editorial board of Ohrid1.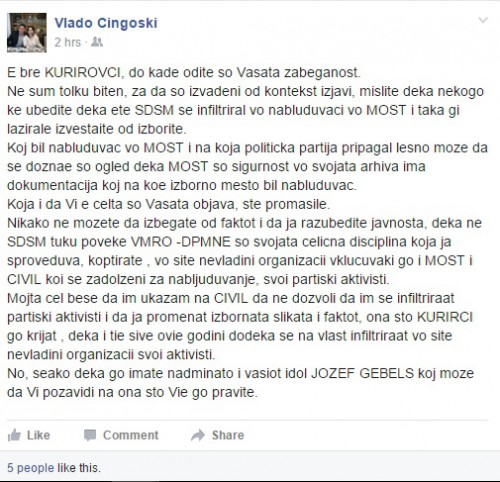 However, following the attacks that were made against Chingoski on the social media, he had to react on Facebook, even though on the video recording of the event that was published on one local TV station and on CIVIL's web-site it can clearly be seen that his words from the podium of the Municipality of Ohrid are being twisted, and that his statement is being spinned.
And, as if that wasn't enough, the portal "Kurir", later tried to accuse Chingoski that allegedly he had confessed that all the observers of "Most" were from SDSM, which the portal than used to attack this organization and its leader Darko Aleksov, as well as involve the inevitable Soros.
This caused another reaction on Facebook from Changoski:
"Members of Kurir, to which extent have you gone with your madness. I am not that important, so with statements taken out of context, for you to think that you can convince anyone in thinking that SDSM has infiltrated into the observers of "Most" and by this faked the reports from the elections. It can easily be checked who have been observers of  "Most" and their political affiliation, considering that "Most" defiantly has in their archives documentation on the observers and the place they have been sent to observe.
Whatever your goal is with your statement, you are mistaken.
There is no way that you can escape the fact and convince the public, that it is not - SDSM, but more VMRO-DPMNE, with its steel discipline that it is conducting, co-opting, in all nongovernmental organizations, including "Most" and CIVIL, which are in charge of observing, its own party activists.
My goal was to indicate to CIVIL for them not to allow infiltration of party activists and to change their elections picture and the fact, something that members of Kurir are hiding, that even they, in all these years in which they have been in power, are infiltrating their own activists in all nongovernmental organizations.
Nevertheless, you have most certainly even surpassed your idol Jozef Gebels, who can only be envious of what you are doing."

This post is also available in: Macedonian