The fourth public discussion Pluralism and Political Crisis, organized by CIVIL – Center for Freedom will take place on Tuesday, May 10, 2016 in the hotel Continental, Skopje, beginning at 10:30 AM.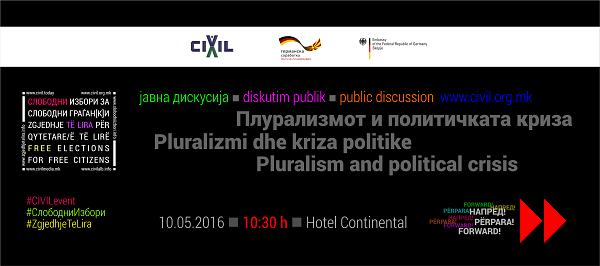 Invited as speakers at this public event will be the highest representatives of all political parties in the Republic of Macedonia. Representatives of the civil society, media and international community are also invited to this event.
Opening thesis and questions for discussion: Regardless of whether the elections will be postponed or not, most of the opposition parties already announced a boycott of the elections (June 5). What are the implications of this decision? Will this move contribute to resolving or will it deepen the crisis? If elections are postponed, should there be a new date for elections or conditions for free elections must be obtained first, and then a date for elections should be set? What's next?
The speakers will have 3 minutes to present their views in the first hour of discussion, after which the podium will be open for questions and comments (1 minute) from other participants and audiences. Simultaneous translation in Macedonian, Albanian and English language will be provided.
This event is part of the Free Elections for Free Citizens project, supported by the Ministry of Foreign Affairs of the Federal Republic of Germany, and Forward! – Elections monitoring project, financed with German funds from the Stability Pact for South Eastern Europe.
CIVIL contacts: 02/5209176; 075 389 698; civil@civil.org.mk

This post is also available in: Albanian Macedonian