The opposition came out with a proposal for overcoming the political crisis. The ruling party responded instantly with its own terms
Skopje, Feb. 15, 2013 - The opposition came out with a proposal for overcoming of the political crisis today. During press-conference held by SDSM, the opposition leader Branko Crvenkovski reminded of the events of December 24, after which he went on elaborating the proposal for overcoming the political crisis in two points.
The proposal comprises postponement of the local elections for April 28, as well as another demand. Namely, if the opposition wins at least one vote more than the ruling party at the local elections; early parliamentary elections will be scheduled for September.
According to Crvenkovski, this is a final proposal that offers way out of the political crisis if there is a will for that in the ruling party.
"The boycott is not a false threat" - said the oppositional leader. If Gruevski does not accept these demands, Crvenkovski accentuated again that the opposition will not take part in the local elections.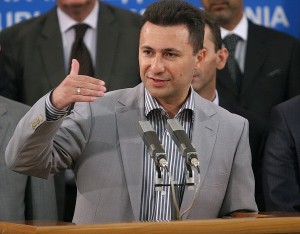 The ruling VMRO DPMNE responded instantly that "there's no theory for any agreement with SDSM that involves early elections, nor there is a chance for postponement of the local elections."
VMRO DPMNE proposed their own terms with a deadline till 19 h for SDSM to agree on a new proposal that comprises extension of the deadline for submission of council-member and mayor lists for another 3 or 4 days; however, election date shall remain unchanged. Rhetoric is tense, and solution for the crisis is not in sight.
Civil - the Center for Freedom deems that the proposal of the opposition was, after all, constructive and should have received more serious consideration in order to find ways to finally start a political dialog that will lead out of the crisis. Civil underlines its previously published stance that the "the responsibility for the situation in a democratic country is more in the hands of the ruling majority than the opposition. Simply put, the ruling legislators has all available instruments to create and maintain democratic atmosphere in the country" - as stated at the press conference of January 30.

This post is also available in: Macedonian