CIVIL - Center for Freedom is organizing the public discussion Pluralism and Political Crisis on Monday, April 4, 2016 in the City Park hotel, beginning at 11 h.Speakers at this public event will be representatives of political parties that are/were not part of the negotiations for overcoming of the political crisis in the Republic of Macedonia.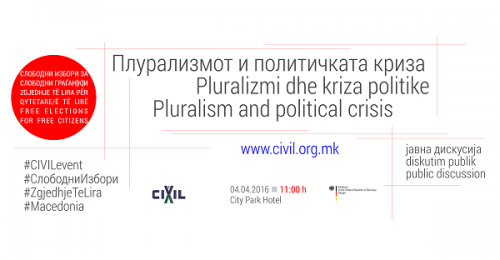 Opening thesis for discussion: The Agreement for overcoming the political crisis (Przhino process) is only partly implemented. Institutions that are supposed to obtain conditions for free elections and rule of law are facing political and media obstructions, as well as from other institutions. Are elections on June 5 feasible? What are the standpoints and solutions for overcoming the political crisis offered by the political parties that are not included in the Przhino process?
Representatives of political parties, civil society, media, and international community are invited to the event.
This event is part of the Free Elections for Free Citizens project, supported by the Ministry of Foreign Affairs of the Federal Republic of Germany.
This post is also available in: Macedonian