CIVIL – Center for Freedom will host the expert panel discussion "Pluralism and political crisis" that will take place on Thursday, March 17, 2016 in the City Park hotel, beginning at 12 h.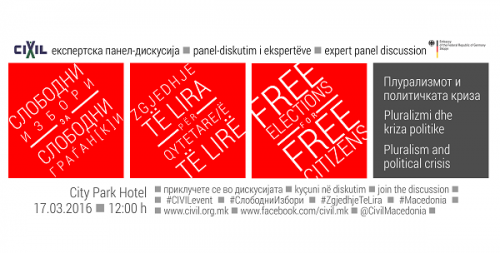 Speakers at the panel discussion will be renowned experts, who will present their expertise on the political crisis and the electoral process in the country. The aim of this discussion is to contribute to creation of a pluralist ambient and debate in the society, through presentation of different standpoints of the expert community.
H.E. Ambassador Dr. Christine D. Althauser will open this event.
This event is part of the Free Elections for Free Citizens project, financed by the Ministry of Foreign Affairs of the Federal Republic of Germany.
This post is also available in: AlbanianMacedonian