With over 100 different media writings in just two months, with numerous video and art messages, columns, interviews, analyses and quotes, CIVIL led the Initiative "United in Diversity" together with a large number of public figures, experts and representatives of different areas of social-political and academic life in North Macedonia. The Initiative reached over 300.000 people in just 45 days. The final numbers will be known after the New Year holidays.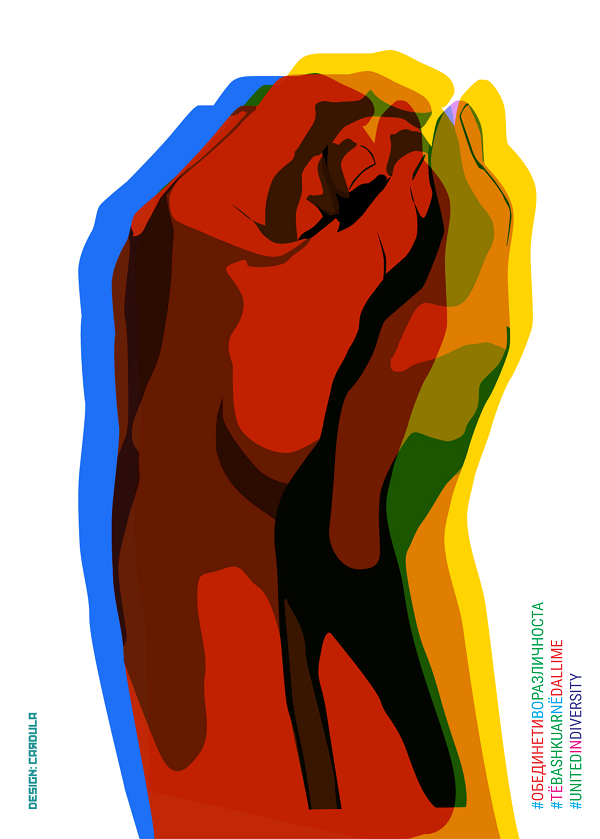 design: Zoran Kardula
The online reactions exceeded even the most positive expectations of the team implementing the Initiative. Despite the dozens of thousands of likes and positive comments, there was a minor number of negative reactions and comments which, as CIVIL's Desk for monitoring fake news and hate speech assessed, are mainly orchestrated and directed in an organized manner by the known troll factories. CIVIL's team announced that it will come out with detailed information on the scope of the Initiative at the beginning of January 2021. In the meanwhile, in the last days of this year, several edited and longer versions of the existing video messages will be published, as well as some entirely new content. The Organization announces that it will continue this important initiative also next year.
"Our society has suffered for too long from divisions, fear and mutual lack of knowledge about the different communities that live under the same sky. Internal integration is needed for progress of society, mutual respect and prevention against discrimination and ethnically motivated tensions, divisions and violence. CIVIL is probably one of the few organizations that through personal example, but also expertise and realistic recommendations and projects, can contribute towards improvement of the situation in this respect", stated Xhabir Deralla, President of CIVIL.
The Initiative is carried out with the support of the Ministry of Foreign and European Affairs of the Grand Duchy of Luxembourg. The goal is through messages in different formats to point out the richness of diversity in our country, to overcome nationalism and ethnic hatred in society and to display the beauty of our multicultural, multi-confessionals and multi-ethnic society.
The Initiative was joined by public figures, respected university professors, civic activists, actors, journalists, creators of public opinion who, all in their own way, spoke about the richness and potential that the different human, cultural, traditional, linguistic and other features of our society offer.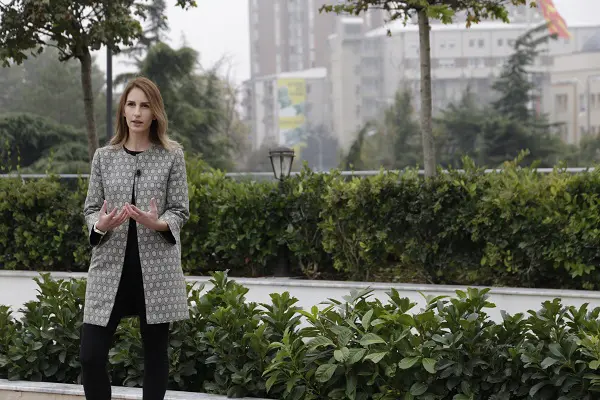 Lisa Bauti Shaqiri
Nesrin Tair, actor, Lisa Bauti Shaqiri, lawyer, Mirjana Najcevska, university professor, Vladanka Dimkovska, actor, Besa Arifi, university professor, Mila Carovska, Minister of Education and Science, Ramush Muarem Cirko, journalist, Petrit Saracini, journalist and writer, Saso Ordanoski, university professor and journalist, Zoran Kardula, graphic designer and activist, Tefik Mamut, activist, Zoran Ivanov, journalist, Robert Alagjozovski, National Coordinator on Interculturalism and One Society, Xhelo Hodzikj, Agency for Communities Rights Realization, Dehran Muratov, journalist, Xhabir Deralla, journalist and writer, sent messages through texts, video messages, artistic expressions or interviews as part of CIVIL's initiative "United in Diversity".
Statements before the camera of CIVIL MEDIA were given by Aleksandar Krzalovski, Muhamed Toci, Sanela Shkijelj, Ljatifa Shikovska, Zhaklina Mucheva, Snezana Trpevska and others.
Accordingly, they and many other interested citizens gave huge contribution to spreading messages for respecting diversity and European values in our society.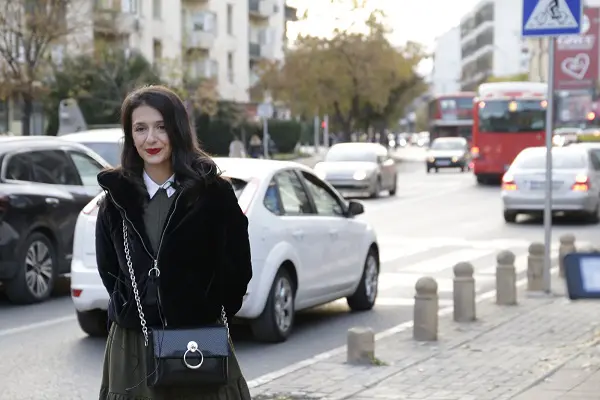 Vladanka Dimkovska
MESSAGES FROM COLUMNISTS
"On the Balkans live peoples who share common history, who have many similarities (language, tradition, religion, food, holidays…), and who are facing many similar problems (developmental, environmental, climatic, economic)", writes professor Mirjana Najcevska in the column "Divided in similarity".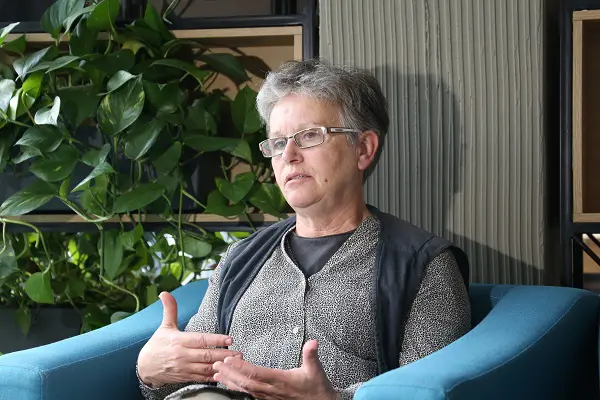 Mirjana Najcevska
However, according to Najcevska, it is precisely in this that the "apple of discord" can be found.
"In the process of emphasizing the differences, increasing the contrast and seeking confirmation of the difference, every opportunity for recognizing the closeness and what is common was trampled and is trampled, and even bridges of communication are being destroyed, of sharing and using the advantages similarity gives" – writes Najcevska, and at the end also recommends:
"What is currently positive is that there is a chance for uniting around a value system that recognizes these similarities. Perhaps, if we give the complex of values built within the framework of the EU a chance (real chance), we will be able to accept the difference as complementary to the similarity. At the national level and level of the Balkan countries".
In her second column on topics related to the Initiative "United in Diversity", titled "Nationalism has the need of the past", professor Najcevska writes:
"Nationalism turns the past into a romantic, proud, dignified time in which everything was clear and unambiguous and which should determine our current actions and feed the hatred towards the enemies from past fights and conflicts. Political subjects are using history to build a memory that can be put in the service of today's political fight", writes professor Najcevska.
"Hate speech is spreading like a harmful plant in a garden of a multi-ethnic state, where flowers in different colors should bloom. The garden is beautiful only like this, when there are different flowers, and not just one kind. North Macedonia is a beautiful, colorful garden for those who want to see it as such. But unfortunately, for some it would have been better if there were only yellow flowers, and not a single red one, only one type of roses, and no other flower. But still, this country has always been a home to many people, many ethnicities, many colors, many languages and many religions. This diversity has always been characteristic for our country, but not for all has meant an advantage. Because for some, diversity is an advantage, a value that should be nurtured, and for others, this diversity is a curse", writes university professor Besa Arifi in her column "At the beginning of the word".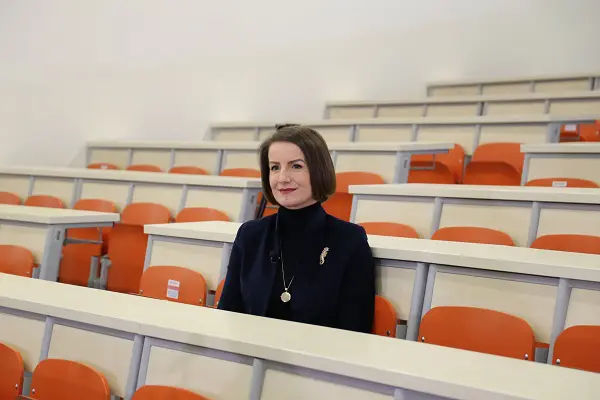 Besa Arifi
"Officially, in our country there are no hate crimes. They exist only as written in the law, while we do witness them every day, and see them as incidents resulting from hatred reported by NGOs. Ignoring them doesn't make us look better neither among each other, nor in the eyes of the world. By ignoring, this problem is put under the rug. The ignoring has to end and our institutions have to openly confront this form of crime. This will be evidence that North Macedonia not only declaratively, but also institutionally, has decided to consider diversity as a value and without fear of treating hatred", writes Besa Arifi in her column "Ignoring is not a solution".
Zoran Ivanov also uses the metaphor "flower garden" in his column "Republic of North Macedonia – one society for all":
"Republic of North Macedonia is multi-ethnic, multicultural, multi-confessional. Republic of North Macedonia is a flower garden of human colors, of equality in diversity. With all diapasons of social inequalities, with all side ethno xenophobic scuffling, and even incidental events, and with all the other numerous marginal or more centralized outbursts based on ethnic or religious grounds, with all spontaneous or political party wrapped doses of nationalism and chauvinism, Macedonia, nevertheless, stands out as an extraordinary regional, continental and world example of a state constitution that institutionally has incorporated all or basically all assumptions for a contemporary organized community adequate to the time and needs of the individual, of the citizen".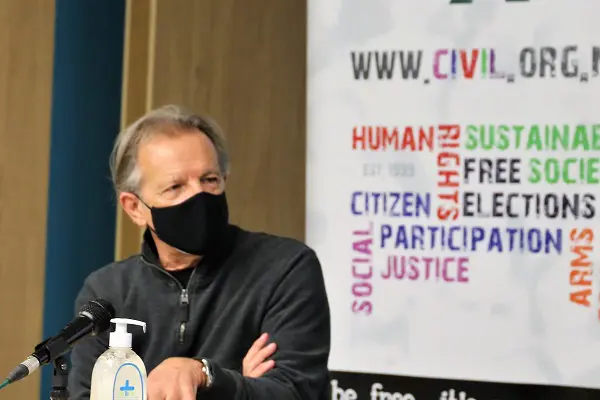 Zoran Ivanov
"May all flowers bloom" is the title of Ivanov's second column in which, among else, he writes:
"An equal society, through an equal state, is an attainable goal. On this civil meadow, on this common Macedonian field, there is room first for everyone, and then for all. Because on this common field of ours, all flowers can bloom and may they bloom".
"Those who have deep understanding of the series of problems and challenges that concern the Roma, know best how prejudices, racism and discrimination influence their lives, and precisely because of this should be part of the government and the different levels within it, so that they can translate their personal experiences and skills into creating appropriate policies that will improve the above-mentioned endless problems of the Roma community in the Republic of North Macedonia", writes Tefik Mamut in the column " "Those who are close to the problems and to discrimination, should be close also to the government and power that will be deciding and solving the same problems".
POWERFULL VIDEO MESSAGES
Many public figures enriched the Initiative "United in Diversity" with video messages against nationalism and by highlighting the richness from the different cultures, traditions, languages…
In the first of the series of video messages in the Initiative "United in Diversity", actress Vladanka Dimkovska says: We are overcoming the negative situations and creating many positive situations
"I am originally from Kumanovo. That means that I live in a city with much diversity, so I have many examples, both positive and negative. I have many friends from different ethnic origin and believe that we are slowly overcoming the negative situations and creating many positive situations".
"If we consider that we should become a member of the big European family, then we certainly need to focus on spreading love instead of hatred, on all grounds, not just ethnic. We need to respect each other more and start to understand the real European values, and that is to be united in diversity all together and to build one society for all", says Dimkovska in the second video message Let's all together build one society for all.
In the third video message, actress Vladanka Dimkovska calls on the youth to stand in defence of diversity and to show that our society can be united in its diversities:
We the youth to stand boldly in defence of diversity.
Actress Nesrin Tair, in a video message for the Initiative "United in Diversity" calls for unifying in diversity, and expresses her confidence that in our country there are many philanthropists. In her address, she quotes widely known Turkish artist Zulfi Livaneli, inspired by a thought from Dostoevsky, saying that Beauty will save the world…
"Having in consideration that every individual, and every nation, can endlessly grow and develop culturally, intellectually and spiritually and socially, ultimately, we will have to unite in diversity, because only this way we will be able to move forward.
Nationalism is very harmful, both for society and for every individual, because awakened national awareness blinds us and does not allow us to see and value the cultural and traditional values of the other nation", says Nesrin Tair in the second video message Nationalism is very harmful, both for society and for every individual.
We are ready to all unite in diversity, says Nesrin Tair in the third video message for the Initiative.
Lisa Bauti Shaqiri, lawyer and activist, in a video message for the Initiative "United in Diversity" calls for us to unite in diversity and together to contribute to development of our society.
"If we didn't have to deal with nationalism, today we would have been talking about global issues for promotion of humanity. Well now, if we have aspirations for EU membership, we need to live in a European spirit, united in diversity with all. To be united in diversity and for all of us together to contribute to the development of our society and state", says Lisa in a vide message Let's all together contribute to the development of our society and state.
Nationalism and interethnic hatred take up much energy. With the entire potential we have as people who live in this country, with our fellow citizens, with mutual trust and with mutual deeds regardless of our differences, we could have worked a little bit more and channelled that energy for our country and society to move forward, says Lisa Bauti Shaqiri in the video message. Nationalism and interethnic hatred take up much energy.
In Europe, the lack of nationalism does not mean that people there do not like their people or nation, on the contrary, they promote values they have as their own background and unite them in a more colourful society, and they develop as a European culture and society, says Bauta Shaqiri in the third video message Lack of nationalism does not mean that people do not like their people.
Journalist Ramush Muarem – Cirko in a video message for the Initiative "United in Diversity" calls for uniting in diversity as the only remedy for the dangerous disease of nationalism.
Nationalism is a collective and individual paranoia. Actually, if we want to define it or illustrate that nationalism, I would see it as a wild river, literally as a wild river that flows uncontrollably, and if we compare it with the weather conditions, when for example there is rain, then those tributaries or events in society contribute for that nationalism to rise like the level of that wild river and for it to start overflowing all around, and at a certain point all control is lost and there is no turning back, says Ramush Muarem in the video message We all need to follow the path that leads to unity.
Petrit Saracini, journalist and writer, in a video message for the Initiative "United in Diversity" calls for us to unite in diversity in order to have justice, equality and freedom for all.
"I think we need to highlight them more, to build paradigms or examples from them that will be used by the entire society on how things really can be done and better, and jointly", says Saracini in a video message Justice, freedom and equality for all.
Nationalism divides us and takes us back in the past. Let's unite in diversity and move towards the future, says Saracini in the second video message Let's unite in diversity and move towards the future.
 Journalist and activist Dehran Muratov, CIVIL, in a video message for the Initiative "United in Diversity" calls for uniting in diversity and putting an end to nationalism.
"Nationalism and ethnic hatred are like ticks, that is, the more a person allows it to be in their body or in their skin and suck their blood, the more it harms their organism. That is why nationalism should be removed, just as the tick should be removed", says Dehran Muratov in the video message Nationalism should be removed just like a tick is removed.
"Diversity is richness and an advantage in every sense of the word. Diversity is richness everywhere, at every time, in every situation in life. If you missed yesterday, it doesn't mean that you cannot become better people, to respect the diversity in others, starting today! Starting now!", is the message of Xhabir Deralla, journalist and writer in the video message titled Respect, become better people starting today, starting now!
DIRECT ANSWERS TO BURNING ISSUES
Artist and designer Zoran Kardula gave special and rich contribution with his art and designer works that he created particularly for the Initiative "United in Diversity", as well as with the interview titled "We must show maturity and all together condemn all kind of hate speech, there is no compromise here".
He expressed his thought and opinions regarding nationalism, diversity, interethnic hatred and the positive and negative factors that impact these issues, and how to overcome them.
"In our country there are stereotypes and prejudices based on differences, including also ethnic difference. It is the responsibility of politicians, but also of every one of us as an individual. How to overcome them? I would say, never vote for nationalist parties, first of all. Secondly, teach children to accept those who are different from them. Respect and mutual trust are necessary for building good interpersonal relations", says Kardula and concludes: "I've never been able to understand nationalism and intolerance towards others just because someone belongs to another ethnicity. We have one life, and to spend it on such banality is unacceptable".
Having in consideration that the education system often is indicated as a source of ethnic prejudice and stereotypes, in the interview " "When we emphasize the differences, let's emphasize them as positive values", Minister of Education and Science Mila Carovska focused on the challenges and changes in the education system fitting to the national interests  – building a multicultural society in which European values are fostered.
"I call on all civil society organizations, all media, to be careful how and what we place. That everything we place should lead towards unity, and not division. That when we emphasize differences, we should emphasize it positively, and not try to say something as negatively as possible about the other side. And in this way, if we work on multiple fronts, both in culture and in education, and in the civic sector in society, certainly we place all this through the media, which information the media will convey in the most positive way it can, then I think we will create an atmosphere of unity and positive development", says among else Minister of Education, Mila Carovska in an interview for CIVIL MEDIA.
Saso Ordanoski, political analyst, in the interview for CIVIL MEDIA titled " "Playing with nationalism is very dangerous, European integration implies cooperation, not confrontation", exposes the instigators of interethnic conflicts, nationalist agendas and the close connection between the political and social structures, including the media, in building positive and negative contexts in the area of interethnic relations.
"Public intellectuals, those who are involved in any sphere of life that affects the political agenda, do not have that opportunity, because they are accountable for what they do and the advice is certainly to always be aware that a word can do much good and much damage, depending on how that public position is used. Although ultimately there are no forbidden topics, though there is a forbidden way of discussing topics, and this primarily regards matters not argued, spreading lies, spreading conspiracies and so on, up to the point when it explicitly concerns spreading of hate speech", says Ordanoski.
Robert Alagjozovski, National Coordinator on Interculturalism, One Society, Cultural Development and Interdepartmental Cooperation within the government and one of the creators, and now also responsible for the implementation of one of the most important strategies in our society – "One society for all", in the interview "Fostering interethnic relations has no alternative" speaks about the interethnic relations, about  the strategy and the challenges. His usual steady vocabulary does not hide the real situation, but in his replies he also presents solutions. Even though the problems in the area of relations between communities are numerous and big, for Alagjozovski they are obviously not insuperable.
"I want to say that the manner in which the media report is very important. Because of these reasons, we need education and improvement in media literacy from the aspect of interculturalism and reducing hate speech and bias. Better equipping of newsrooms, of the smaller and other communities, but also active cooperation between them, so as not to have the Serbian newsroom reporting on something that happened, I don't know, let's say in Prizren, and the Albanian newsroom in another way and the Turkish in a third way. Certainly, separate views are important, but the principle of good reporting should be present. Here, all views from the code of ethics that refer to interethnic relations should be strengthened", says Alagjozovski in the interview for CIVIL Media.
CIVIL MEDIA carried out an interview with Xhelo Hodzikj, Deputy Director of the Agency for Communities Rights Realization in RNM, in which he spoke about the situation of interethnic relations in our country, the optimism that we can advance and learn to live together, and about the destructiveness of nationalism.
"Nationalism, or what I call primitive nationalism, does not bring happiness to anyone, not even to the one producing it. We all need to realize that the RNM is our common country and that it has a place for everyone in it and we should see to it that it is better and much comfortable for all of us. It is quite important to produce tolerance, and everyone should be responsible for their actions. What is important, but does not mean that we should not fight for rights that we are entitled to by Constitution and law to exercise or to possibly fight for changing of laws, is that we need to be aware that our right should not limit someone else's right, says Hodzikj in the interview for the Initiative "United in Diversity".
Besa Arifi is a university professor with whom CIVIL MEDIA had an interview titled "How we behave towards others is very important for the relationship we build in society".
"Each of us can do a lot in overcoming those stereotypes, though we are not talking about specific professions, each one of us is a person who has relations with other people in various ways. In their home, at the place where they live, with the people they see every day. How we behave towards all those who come from other ethnic communities is very important in terms of what relationship we are building in society. Furthermore, I think that we, as intellectuals, as people who have a certain profession and work in certain institutions, especially we who work in educational institutions, I think it is very important to convey such a view of the world, which opens thinking, and not closed thinking, closed minds, closed thoughts that simply just sow fear and bias among people" – stressed professor Arifi.
VOX POPULI
CIVIL asked citizens whether there are ethnic divisions, who causes them and how to overcome them. The replies of citizens are that people know how to live together, but that politicians are to be blamed for the ethnic divisions in our society.
"Politicians enter politics as needy, and exit as millionaires. And it is easy to manipulate with these poor and agonised people when you have become enormously rich overnight. Every day we see how some things happen and how politicians are spared, while the common people pay the check, says one citizen.
"With ethnic tensions come bad things, why not all live together, we are all from flesh and blood. We should live in harmony, but there are different characters and you cannot complement them to be exactly how we want to", says a citizen.
"Ordinary people should live as they have for years, and those who are creating ethnic divisions for someone else's interests will continue to do so, because that is how it has been for centuries. But people should live in harmony. I have lived in a Turkish neighbourhood and we all got along and as a child I learned to speak Turkish. Today I associate with everyone, with all ethnic and religious communities and have no problem, everything goes normally. Life among ordinary people is not a problem, ordinary people quickly establish communication, but someone else is making them create hatred", stresses another citizen.
"Ethnic hatred will be overcome if people overcome themselves, that is, do not think only about themselves but also of others", said a citizen before the camera of CIVIL MEDIA.
One citizen thinks that ethnic divisions are created by those who without any education enter a political party and do not know what politics are.
SHORT AND CLEAR, ABOUT UNITING IN DIVERSITY
Aleksandar Krzalovski, Muhamet Toci, Sanela Shkijelj, Ljatifa Shikovska, Zhaklina Mucheva, Snezana Trpevska and others spoke about whether and how much it is possible to unite the diversity in our society.
"I have seen many such episodes of seemingly irreconcilable differences having started to cooperate. At the beginning, they were gender issues, men – women and whether we understand each other, then religious communities, for example, as a more difficult target group, but which demonstrated that when something is desired it can be an example of cooperation for others, through tolerance between each other, for coexistence of the differences. Lately, with the fights in Syria and people returning from there, terrorism has been rising, and compared to our conflict in 2001 and the cooperation between the fighters of the KLA and people from our security forces, it has been demonstrated that all that can function, even people who looked at each other as a target have started to cooperate together. I think that this should be promoted and nurtured much more in our country and suppressed, even though I think that currently intolerance or differences are not such a problem, the biggest problem are politics and that should be primarily overcome", stated Aleksandar Krzalovski, Executive Director of MCIC.
"We understand diversity as something that is artificially created in social relations, people to differ based on some of their characteristics. We strive to see people in an equal way regardless of their characteristics on any basis, to have equal rights and to develop them in their personal life in social relations, that is what interests us in our researches.
We study situations in society that lead to deepening of differences in order to find a way how to specifically make a change so that people are equal. In that sense, we observe that problem of uniting diversity", stated Snezana Trpevska, researcher at RESIS.
"Diversity is the richness of a society. What we as institutions, together with civil society organizations, together with every individual should strive to do is for everyone end every difference to have an equal opportunity and equal access in society. I strongly believe that unity of diversity is possible", stated Sanela Shkrijelj, Chief of Cabinet within the Ministry of Education and Science.
"We and civil society organizations have been for years working in relation to cooperation, tolerance, humanity among the differences, because that makes us of better quality, because we are all the same regardless of which ethnic group we belong to. All of us, especially the competent institutions, the government, politicians, should realize this as soon as possible, because only together we can achieve more results, a better life for all. We should, above all, have respect for one another in regards to the differences… We are all the same, we are all equal and we all deserve an equal society", stated Ljatifa Shikovska, MP of the Republic of North Macedonia.
"We are all essentially the same, but different in one thing, in two things, in several things, but still, we are all people, we can unite for different goals and we can all make something that moves us forward. I think that the NGO sector should influence citizens a bit more, make campaigns precisely in that direction and I think that everything that has been so far done is satisfactory, but we are not yet at a level that will lead us to that progress. Because, on the other hand, it concerns awareness and raising civic awareness when it comes to uniting in diversity. I remember many years ago when we talked about these topics, we were very behind compared to other countries. We are moving slowly, but we are still moving towards the ones that are our goal, and that being the countries in which differences truly are at a same level", says Zhaklina Mucheva from the Holocaust Memorial Center of the Jews from Macedonia.
"The point is, the sooner we realize that regardless of the fact that we are different from others on any basis, we can benefit from learning from those who are different from us. That makes us richer in our ability and in coping with challenges we have. I do not say this as a representative of some civil society organization, but as an ordinary citizen, as an individual. Everyone can learn from others. We determined this through the various projects we have with young people, children and high school students. One of our projects was for them to mutually get to know what the traditions, culture and feature of every ethnic community is. And then we determined, through work with high school students, that young people have little knowledge about each other, regardless of whether they associate together in the same school, that they know little about each other, about the culture of the others, the language, the customs… The more we as civil society organizations, the state overall, work on bringing the differences closer, but each keeping their diversity, will be richer if they get to know the other", stated Muhamed Toci from the association "Moon".
Diana Tahiri
Translation: N. Cvetkovska
This post is also available in: Macedonian