"At the beginning of our speech, we would like to express our view that at this point the key conditions have not been fulfilled, nor is there a favorable environment for holding fair, free and democratic elections that would restore citizens' trust in that in Macedonia it is possible to decide freely and that the citizens' decision will be respected by the institutions and the political parties. Conditions for conducting free elections should be provided, and not just the date when they will be held. If proper conditions are not provided, the civil society organizations will boycott the elections", stated Biljana Bejkova from NGO Info-center on behalf of the civil society organizations, platforms and initiatives, which held a press-conference today in front of the Delegation of the European Union in Skopje.
Following the letter that was sent to EU Commissioner Johannes Hahn on January 14, the civil society sector today, once more, demanded full implementation of the Przino Agreement and implementation of real reforms for fair and democratic elections, depoliticisation of the judiciary, free media….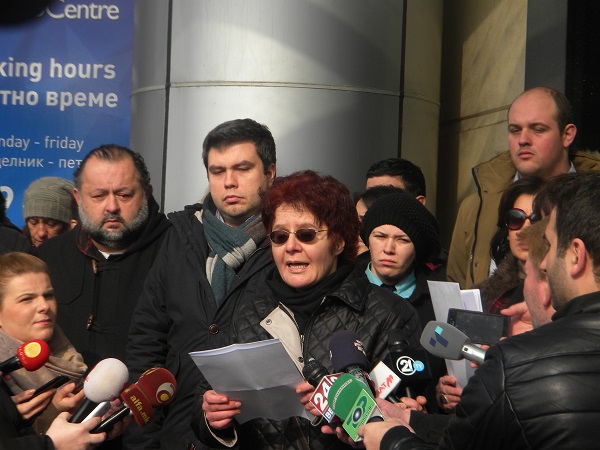 78 civil society organizations, platforms and initiatives, including CIVIL – Center for Freedom, presented their letter today that was sent to the President of the European Commission Jean-Claude Juncker, to the High Representative of the EU for Foreign Affairs and Security Policy - Federica Mogherini, to the EU Delegation in Macedonia, to members of the EU Parliament, to the Head of Senior Experts Group - Reinhard Priebe, to the OSCE Mission in Skopje, to the embassies of all EU member countries that have representative offices in Macedonia, and to the Embassy of the USA, and with one copy having been sent to EU Commissioner Hahn.
CIVIL is continuously presenting its recommendations and analyses to the international community and to other decision makers on overcoming the political crisis and on the conditions that will contribute to fair, free and democratic elections.
Furthermore, in the last analysis of January 10, "Free elections are the only chance for restoring the rule of law", CIVIL came out with findings and requirements that coincide with those stated in today's letter of the civil society sector. CIVIL is sending a strong recommendation to the international community to seriously consider the  recommendations of the civil society sector.
This post is also available in: AlbanianMacedonian