Press-conference of Civil: Preliminary reports from the Prevention Working Groups: - A new appeal for a political dialogue. - Announcing the conference on "Democratic Prospects for a Political Culture and Dialogue".  - Presenting the "Free and Nonviolent Elections" campaign.
Civil - Center for Freedom presented the preliminary findings of the prevention working groups about the situation in the country during the pre-election period at today's press-conference. At the press-conference, Civil sent yet another appeal to the political elites for overcoming the political crisis and restoring the dialogue, democracy and observance of human rights.
At the same time, Civil announced the conference on democratic prospects dedicated to the political culture and dialogue on Friday, 1 March at Skopje Fair. Leaders and high representatives of several political parties already announced their participation at the conference, the heads of over ten municipalities in the country, representatives of the civil sector, and several ambassadors announced their attendance. With this conference, Civil makes yet another effort to establish a dialogue between the political stakeholders in the country and to promote the dialogue as a method for resolving the conflicts in the country.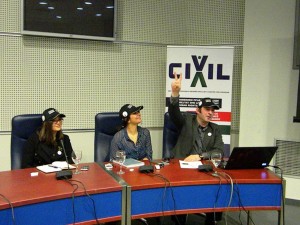 At the very beginning of the press-conference, Civil also presented a part of the rich media campaign for Free and Nonviolent Elections aimed at strengthening the public awareness of the democratic values and at prevention of violence and armed violence in the election process. The basic motive of Civil's campaign is the slogan: "I am not a pawn. I demand free and nonviolent elections." The campaign will start at the beginning of March in the traditional media, whereas it has already started in the new media and social networks. The campaign is prepared and conducted by the members and associates of the creative team and activists of Civil.
The President of Civil, Xhabir Deralla, ended the press-conference with the words: "Let the citizens win!"
This post is also available in: AlbanianMacedonian