Following the article of Harald Schenker in the Balkan Insight
Xhabir Deralla
Well, legends and reality are two different things; more precisely: propaganda and reality. Esma Redzepova was self-proclaimed queen of Roma music. The former Yugoslav propaganda machinery has created and launched Esma's as one of the many agitprop products. What we see from Esma in times of independent Macedonia is YU inertia, as so many other things. Her music, frankly, is far from being so royal as she and the (post)Yugoslav prop machine claim; there are quite a few kings and queens of the Roma music. Her charitable work has a rather disputable background. She's a small time and irrelevant politician. Altogether, she's got a deserved position at the Eurovision contest to which she participated after a scandalous string of events back home – paid by the citizens of Macedonia.
She was quoted in Serbian daily using pejorative names for homosexuals while describing Eurovision organizers and trying to find excuse for her debacle at the contest. Moreover, she alleged that her partner in singing, the young Lozanoski was pinched by gays in the lobbies at the Eurovision event. Shameful. A pro-governmental daily hurried to launch a romantic story on Esma attending a wedding of a gay marriage in Amsterdam. But, the damage is already done.
She, indeed, is in the line with the official politics.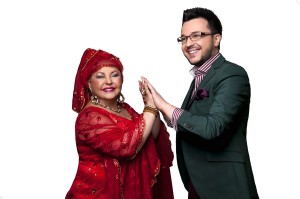 Calling names and insulting LGBT community is what the official politics of Macedonia don't dare to formulate in such a primitive and vulgar way, but they certainly mean it, if we judge their opinion by their actions and practices. The essence is the same. Just as the pro-governmental circle of self-proclaimed journalists and intellectuals say what the political elite in power thinks, so Esma rambled what she did. It's not the first time. It's not the last time. LGBT issue is not the only one, either.
Esma is a politician for over a decade now. She's always been the darling of the ruling parties; always dressed in colorful traditional costumes, issuing not very intelligent statements - always in the same line with the rulers, though. That's what she is supposed to be: colorful, not too bright, and obedient. Just like many other docile characters who - among so many other things – raised their hands in support of elevation of the despicable Skopje 2014 – a shockingly dumb, kitschy, and intimidating project.
Wicked times call for wicked acts.
This post is also available in: AlbanianMacedonian