Thursday, July 4, Menada Club, Old Town, 8 pm – 1 am
Civil is organizing the event "Defending Human Rights: Artists' Role". The event is in frame of the Speak Up project dedicated to awareness-raising on human rights and solidarity. The project includes artists in defense of human rights and freedoms in the society.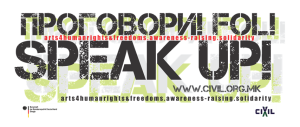 The first part of the event, starting at 8 pm, Civil will briefly present the project and the Speak Up! Manifesto, and will appeal to all creative people and artists in the country to support promotion and defense of human rights in the spirit of solidarity amongst people. After the presentation the H.E. German Ambassador Gudrun Steinacker will give a speech.
Freedom lyrics is the title of the slam poetry session, starting with Puntorie Mucha Ziba, Kocho Andonovski, Petar Stojkovikj and Xhabir Deralla. In the spirit of slam poetry, attendants to the event will be invited to get on the Menada Club's stage.
At 9 pm, Civil will open the discussion "Defending Human Rights: Artists' Role" where all attendants will be invited to speak up on the situation and position of the artists in the Macedonian society. They will also be asked on how artists can and should support awareness-raising on and defense of human rights in the society. In our experience, we recorded that this theme stimulates high interest and dynamic discussions. We believe that it will be so in this occasion, as well.
After the discussion, DJ program will follow until 1 am.
The project is financed by the Ministry of the Federal Republic of Germany with 20,000 euro; duration April – December 2013.
This post is also available in: AlbanianMacedonian