Do you support the "Colorful Revolution" protests? In regards to the first question of the online survey "Protests in Macedonia – a solution or deepening of the crisis" conducted by CIVIL – Center for Freedom, 83.40% stated they fully support the protests, while 9.31% of the respondents said they do not support the "Colorful Revolution" at all.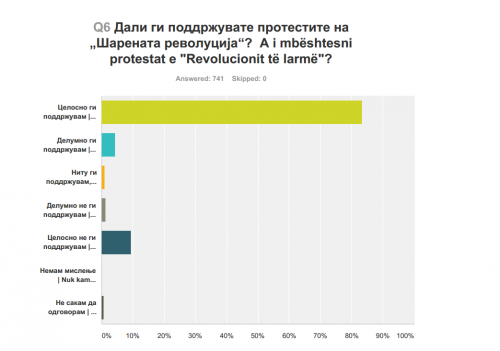 The online survey was conducted within the framework of the Project "Free elections for free citizens", in the period from April 25 to May 5, and from the results obtained we detected the citizens' opinion on the protests and counter-protests, their actions and organization, and the impact on the political crisis in Macedonia and the possibility for free elections.
The online survey included 741 respondents who answered 10 questions.
85.70% of the respondents are familiar with the demands of the protesters of the "Colorful Revolution", and 83.27% of the respondents support them. The protestors achieved the effect of colorfulness by throwing paint and eggs at the sculptures of the "Skopje 2014" Project. As much as 75.57% justify this action of the protestors, and 16.87% do not agree with this kind of expressing of revolt.
Nevertheless, regarding the question who is organizing the protests, opinion is divided among those who participated in the survey. There is a difference of 0.53% between those who believe that the "Colorful Revolution" is organized by civil society organizations (42.65%) and those who are sure that the organizational structure of the protests is comprised of the opposition (43.18%).
82.59% of the total number of respondents do not support at all the meetings or counter-protests of GDOM, while 53.17% of them are familiar with their demands and 87.31% do not support their demands for a temporary ban on political parties and non-governmental organizations that support the "Colorful Revolution".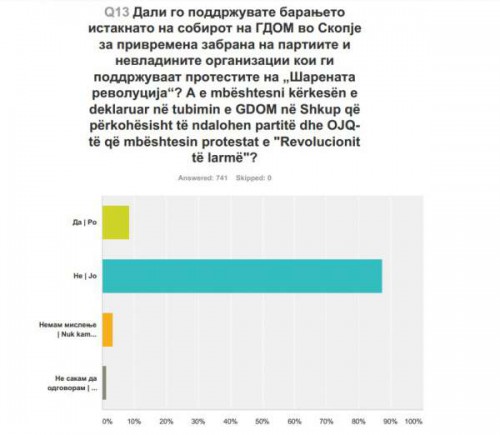 83.54% of respondents are sure that the party in power is organizing the counter-protests of GDOM.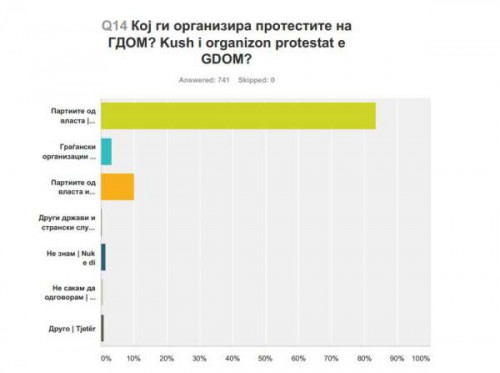 Regarding the question "Do you believe that the protests of the citizens are contributing to the resolution of the crisis and towards the implementation of free elections", 80.03% of the respondents consider the protests to be the only solution.
The Project "Free elections for free citizens" is financed by the Ministry of Foreign Affairs of the Federal Republic of Germany.
Biljana Jordanovska
This post is also available in: Macedonian