CIVIL – Center for Freedom has already presented its recommendations and analysis to the international community and remaining decision makers in regards to overcoming the political crisis and the conditions that will contribute fair, free and democratic elections. In its last analysis "Free elections are the only chance for restoring the rule of law", CIVIL sent  a clear message to the international community for the postponement of the elections, but not of the resignation of Prime Minister Gruevski.
Ahead of Johannes Hahn's visit to Macedonia tomorrow, several NGO's presented a letter to the international community at a press conference held in front of the EU Delegation in Skopje. On behalf of the civil society organizations, the following people addressed the press-conference: Fani Karanfilova-Panevska from FOSIM, Uranija Pirovska from the Helsinki Committee for Human Rights and Bojan Maricic from the MCEE.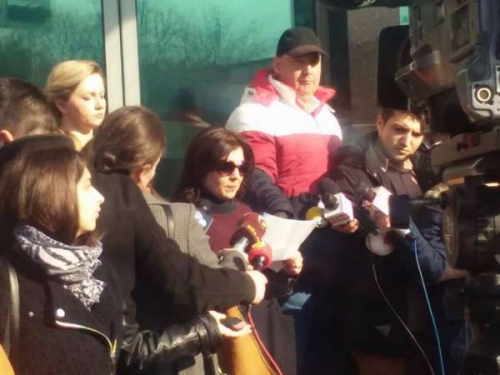 "At the beginning of our speech, we want to express our position that currently the key conditions have not been fulfilled, neither is there a favorable environment for holding fair, free and democratic parliamentary elections that would restore the citizens' trust in that in Macedonia it is possible to freely decide and that the citizens decision will be respected by the institutions and by all of the political parties", was stated in the announcement made by the civil society organizations.
The continuous postponement of the realization of the Przino Agreement, the malfunctioning of the State Election Commission, the lack of an agreement among the key political parties in regards to reforms in the media, as one of the key factors for creating an equal opportunity for media presence of all political options,  are the things that were stated as being the main arguments for the postponement of the elections.
CIVIL agrees entirely with the findings and requirements that were stated in the letter and together with the other civil society organizations is sending a strong recommendation to the international community for a serious consideration of the recommendations of the civil society sector.
Biljana Jordanovska

This post is also available in: Albanian Macedonian