CIVIL – Center for Freedom used this weekend (March 30-31) for trainings for monitoring of the presidential elections. The observers at the seminar received detailed guidelines for observing the process of the implementation of the presidential elections from several aspects.
CIVIL's collaborators, supporters, members, as well as long-term observers, have been monitoring the election process from the very start, following the announcement of the presidential elections on February 8. CIVIL continuously monitors the situation of human rights and freedoms and the socio-political processes in the Republic of North Macedonia.
CIVIL's monitoring on the day of the voting in the first and second election round will be carried out by about 160 accredited observers. Observers are divided into two groups, according to the projects within which framework these activities are being implemented, namely, the projects "Civic Lenses", supported by National Endowment for Democracy and the project "Citizens for a free society" within which framework is also the development of CIVIL's media platform, with the support of the Ministry of Foreign Affairs of the Federal Republic of Germany. Each of the projects include a special focus on the right to vote, political corruption and vote-buying, threats and pressures, as well as political financing.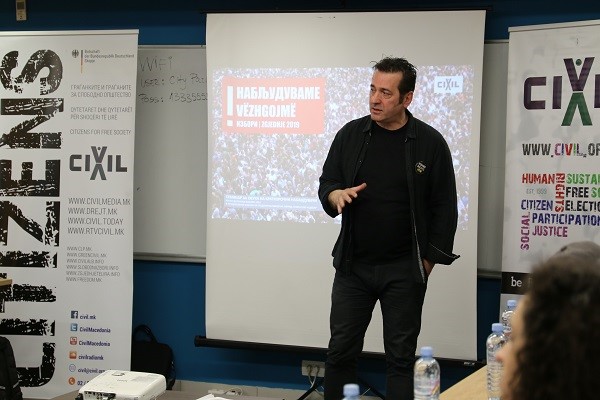 So far, many cases of hate speech, false news, political corruption, black campaign and a campaign prematurely started have been noted. CIVIL directed its focus in the monitoring during this period on the presidential candidates, their supporters, the political parties and their financing, the institutions and the media.
The trainings were led by Xhabir Deralla, CIVIL, with the help of the organization's Coordination Team. The participants at the trainings were introduced to CIVIL's principles of observation, the methodology and security protocols in the process of monitoring the election process. Furthermore, they also received specific guidelines on how to report on all forms of pressures, manipulation, and especially on the violation of the right to vote, but also how to protect the secrecy of the data and how to protect the identity of the sources of that information.
For more information about CIVIL's activities, findings and views about the election process, interested media and citizens can contact us at the telephone number 02 / 520 91 76 or write us and email at civil@civil.org.mk, or on Facebook.
B. Jordanovska

This post is also available in: Macedonian