At today's press conference of CIVIL - Center for Freedom, the start of the two media projects was officially marked, those being the information portals of CIVIL Media: www.civilmedia.mk and www.civilalb.info, with the support of "Civica Mobilitas" and of the donors of all the projects that are being implemented by CIVIL.
The editor of CIVIL Media, Sinisa Stankovic, in promoting the two portals emphasized that journalists need to try to correct the situation in the media sphere and in journalism in Macedonia, which according to him is at a devastatingly low level:
"Dear colleagues, I welcome you. Today I have great pleasure and honor to promote something that we have been doing for years, trying to save the honor of our profession, of a profession that is so wonderful, but one which, unfortunately, in Macedonia has been thrown to the lowest possible position in the last 26 years.
As an organizational, working unit of NGO CIVIL - Center for Freedom, CIVIL Media exists since March 2009, and during this entire time it has been trying to influence the situation of the freedom of expression in Macedonia, the publically stated word and the freedom of the media. In these almost eight years, thousands of materials have been produced, and from the of summer 2015 around 5000 media contents, texts, video materials and photo galleries have been produced by a small team, mixed, composed of activists and young journalists, with the support of two-three more experienced professionals. In these two years that small team fulfilled the task, and I will proudly say, well beyond my expectations. And that team should be proud with what it has done, especially because we tried to keep the rationality, the balance and objectivity, if that is at all possible in this crazy time in which we live in, and also not to be a competition, but if possible- of help to colleagues in the commercial media. That is precisely why we signed the Creative Commons Attribution-NonCommercial-NoDerivatives 4.0 International License, which enables all media to use all of the content published on civil.org.mk, certainly by quoting the source. We encourage our colleagues to do this and ask journalists in their media outlets to use and distribute portions of our contents or to use them integrally.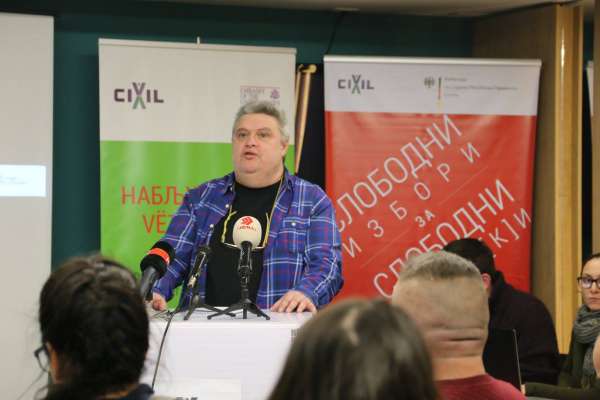 That website as of Monday will remain only as an organizational site of NGO CIVIL-Center for Freedom, at which announcements of the organization will continue to be published and where all activities of all of the projects that CIVIL is implementing in Macedonia will continue to be announced. This means that all content related to the work of CIVIL will continue to be published there.
However, in addition to the civil.org.mk website in three languages, where we publish(ed) our productions in Macedonian, Albanian and English, in these past two years we have been also maintaining the websites civilmedia.mk, civilalb.info and civil.today, each of them in one language. The first two websites, as of Monday, will be the new information portals of CIVIL Media, related media projects with almost identical media productions in Macedonian and translated in Albanian, with the idea and strategy in the near future to grow into media in Macedonian and the Albanian language, where original production in both languages will be published.
The team remains small, but we hope that the published content will attract other journalists who would like to cooperate, to create topics, for civilmedia.mk and for civilalb.info now. This time the license will be  Creative Commons Attribution-NonCommercial-NoDerivatives 1.0 International License, which means that all media will further be able to freely use or content with appropriate attributing, or with hyperlinks to the original text when it comes to the portals. We will not be competition to the existing commercial online media, but instead of competitiveness, just as until now, we will offer complementarity and cooperation. We will continue to offer everything that we will produce, working honestly, balanced and objectively, so that it may be used by all those who have interest in it.
In general, we will continue to advocate and fight for returning Macedonia among the civilized countries in the world, where there is freedom of expression, where free thought is publicly expressed, and finally, where there are free media, the kind which we hope our two information portals will be like, which as of Monday will be available to the citizens in the Macedonian media space. The new portals will be different from our previous website, which mainly "covered" topics in the sphere of human rights protection, monitoring of all types of elections, social justice, syndicalism, disarmament and fight against all violence and protection of all marginalized groups and individuals…Both portals will deal with topics concerning the political and social life in Macedonia, culture and art, and nevertheless, will be a free zone, an open ground for all people who know and are able, who have the courage and want to express their view, as opinion makers, columnists and analysts to help the surrounding in which they live in, the community and the country…All those who want to offer something new, a change that will pull us from the bottom, will be welcomed!
And, certainly, for all of our readers and viewers who were regularly visiting the website civil.org.mk, we invite them again as of today to be our associates and to visit our two "new" portals civilmedia.mk and civilalb.info!
Like all of our other media products, greencivil.mk, dedicated to social justice and environment, clp.mk, dedicated to citizen journalism and citizen journalists, and freedom.mk, dedicated to culture and art, all cover in their own way a part of the media living in Macedonia
This post is also available in: AlbanianMacedonian