CIVIL - Center for Freedom organized a public event "Pluralism and political crisis" which will be held today (February 2, 2016) in Hotel City Park, beginning at 12 am.
Leaders of more than 10 political parties that are not part of the political negotiations, have confirmed their participation in the debate CIVIL entitled "Pluralism and political crisis."
Questions and comments can be sent now, and during the debate, CIVIL and on Twitter with the hashtag #CIVILevent.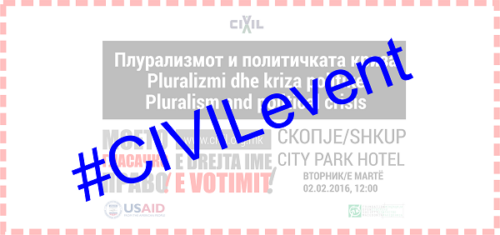 The event is a part of the project "My electoral right," supported within the USAID project for civil society, and implemented by the Foundation Open Society Institute of Macedonia.

This post is also available in: Macedonian