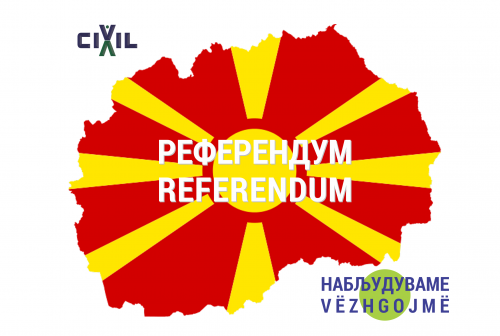 CIVIL – Center for Freedom has established monitoring of the situation in the social – political context from the very beginning of the referendum process. Citizens are faced with the referendum question "Are you in favor of membership in EU and NATO by accepting the Agreement between Republic of Macedonia and Republic of Greece?", which they need to answer on September 30, 2018.
Non-partisan, objective and neutral monitoring
CIVIL has allocated over 30 active long-term observers throughout the country, whose task is to observe the process of implementing the referendum preparations from several aspects, and especially in terms of respecting the right to vote.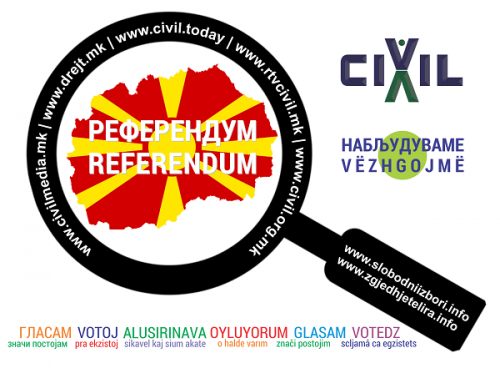 Monitoring is conducted on the institutions, political parties and other structures involved in the process, the manner of implementing the campaign and public debate in the context of the referendum. Over 200 accredited mobile observers of CIVIL will be monitoring the day of the referendum, deployed throughout the entire country. They will be assisted by the citizen journalists. In the past three years, CIVIL has carried out trainings for citizen journalists for over 900 participants.CIVIL's monitoring is non-partisan, objective and neutral, whereas the reports of the field work are available on the organization's media platform. The views and analyses are published in separate sections on the media platform, and do not always correspond to the views of CIVIL.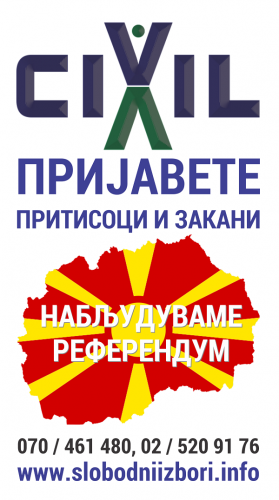 Reporting irregularities, threats and pressures
CIVIL, as in previous election processes, is calling on the voters to use their right to vote, freely and without fear and coercion.
To report any form of pressure or threat to CIVIL at the website Free Elections or to contact us at the following telephone numbers: 070 461 480 and 02 5209 176.
Education on the right to vote, and not a campaign FOR or AGAINST
As in previous election processes, CIVIL pays special attention to respecting one of the fundamental human rights, and that is the right to vote.
CIVIL does not interfere in individual decisions of citizens as to whether they will vote FOR or AGAINST at the Referendum, and does not conduct a campaign, but rather education on the right to vote.
Referendum turnout
The organization's firm position is that citizens should vote at the Referendum, because it is a form of direct democracy, and that this opportunity to be part of making an exceptionally strategic decision for the country should not be missed.
Every individual should make an informed choice, according to their own beliefs, FOR or AGAINST, without fear, without pressures and threats. Even though it is a democratic right of every individual, CIVIL does not recommend abstinence from voting. The institutions, media and civil society organizations are called on to provide voters with relevant and clear information on the process. 
One of the many arguments against boycotting the Referendum is also that the citizens should not leave others to decide instead of them, but that they themselves should be a part of the democratic decision making processes.
STOP hate speech and fake news
As an organization for human rights and freedoms, CIVIL is joining the fight against fake news and hate speech.
Using hate speech and violence, slander and manipulations with fake news and spins is unacceptable and and are forbidden forms of support of any initiative, for which the relevant institutions are urged to act according to the law.
CIVIL is demanding from the structures that are spreading hate speech and fake news to stop with their attacks, because with that they are undermining the vast majority of citizens who want to make their own decision and to use their inviolable right to vote, or even abstain from voting.
Hate speech and fake news are not an appropriate way to advocate a political view.
CIVIL remains consistent to its principles and determinations. The CIVIL-ians never hide anything, and are not afraid of anyone or anything to express their beliefs and thinking.
CIVIL is unwavering in its efforts for human rights and freedoms, always and everywhere, clearly and loudly.
Be CIVIL!

This post is also available in: Albanian Macedonian