Civil held a press-conference dedicated to the forthcoming elections and called for political reconciliation
Civil - Center for Freedom made a public presentation of the Free and Nonviolent Elections 2013 Project. At the press-conference, held today in Skopje and attended by a large number of journalists, the President of Civil Xhabir Deralla informed about the ongoing and future activities for prevention of violence and armed violence during the election process, as well as about strengthening the public awareness on electoral culture.
The media were informed that Civil has already formed Working Groups for prevention and monitoring of the overall process throughout the country. There are over a hundred people already active in nine regional centres and in all municipalities and larger settlements. The citizens that are to participate in the prevention working groups will receive information, which they will submit to the Public Relations Department of Civil, and then the information will be disseminated to the national and international public.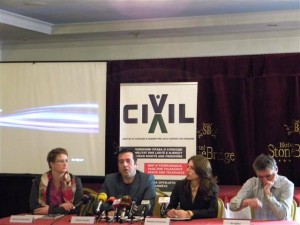 - We will establish intensive communication with the political parties and institutions of the system, there will be a strong supervision over the so-called "party militants" and we will strive to bring their actions in a situation tolerable for the democratic processes, Deralla explained.
The representative of one of Civil's partner organisations, Forum Civil Peace Service, Kristen Schönefeld, addressed the journalists and expressed her satisfaction of the participation and possibility to contribute towards strengthening the democratic culture and conducting free and nonviolent elections in our country. In her speech she also called attention to the need for mediation and its significance.
- We will try to contribute to this election cycle by offering nonviolent manners for overcoming the conflicting situations that we will encounter, and thus contribute towards improving the democratic culture and overcoming the conflicts in this country, Schönefeld emphasises.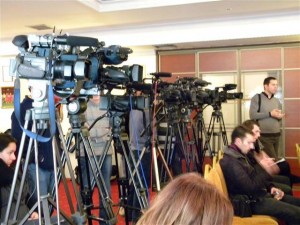 At the press-conference, Civil called for political reconciliation and return of the democratic values and observance of human rights. The questions of the journalists led to the viewpoint that the Government has the instruments for creating a democratic atmosphere in the country, as well as that all political entities should direct their activities towards improving the democratic atmosphere and in the interest of all citizens of Macedonia. Deralla emphasised that in this period the civil society has a unique opportunity to be the forum where the needs and aspirations of all citizens of Macedonia will be directly expressed.
- Those that will come to power should serve us, the citizens. They are our servants. Therefore, we encourage all citizens and citizen's organisations to give their votes and to work with the citizens, since this is perhaps a unique opportunity for the civil society to be what it really is – the voice of the people, Deralla concluded.
Anushka Cvetkovska
This post is also available in: AlbanianMacedonian