Or, in other words, Government's measure to decrease unemployment
Kate Hristovska

And then, once again, in our dear and fine democracy, a new Government's measure: "Active or Passive"...
I had no clue, but unfortunately, very quickly, things got clear as a day. You go to the Employment Agency to register as unemployed, because you are looking for a job in order to survive in this democracy of ours, and you are received by the officer with the newest form: Active or Passive Job Search. You ask what is it about, and he tells you: everything is well written in the form, take this nicely to the work club, read it and fill it out. You enter the club and find it crammed with people, lost, bumping into each other and trying to find a spare spot to seat and fill out the form. They ask among themselves, what in God's name they need to write down. It seems like nobody is in the loop. I approach one of the dozen officers (who happens to be very cordial), and he explains everything in the right order: If you sign as active job seeker, you'll have to report once monthly, very strictly, without any delay, otherwise we'll take you out of the register immediately; every time you would have to bring a justification why you have not been hired, otherwise we'll take you out; if we find a proof that you have declined a job, or not accepted one, again we'll take you out; and so on, and so on.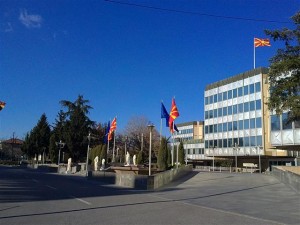 Then I ask if that means I'll be taken out of the registry even if I decline a low-paid job, like for example, one that is 4,000-5,000 MKD? That is exactly what it means, he says, no declining whatsoever; otherwise we take you out of the register immediately.
And after you hear one too many times that you'll be taken out of the register because of this or that, you ask - so what if you take me out? The answer clarifies things: You'll be removed from the register for a whole year. Automatically, he says. Consequently, the general unemployment rate, automatically, decreases. That clarifies a lot. Well, this seems like a measure for statistic cutting down on unemployment, nothing more, and nothing less.
These measures look alike the others around the clock or 24/7, only the shovel is missing. Particularly the Agency, coming up with eyewash of this sort, by all means. We all know too well what they are thinking, that, apparently we are looking for a job and pray not to find one. It really makes no sense; they will make us work for nothing and criticize us on top of everything. Do they have an idea what is the cost of a monthly bus ticket; and shouldn't we have some appropriate clothes to wear... What first to buy or pay with a salary like that one? On top of everything, we are criticized; like they know how average people live. Of course they wouldn't, their salary is surely not 4-5,000 MKD monthly.
Okay, I say to the officer, what if I elect that I am passive job seeker? I start to offer excuses, I don't know if I would be able to bring the proofs, the justifications; I don't really know what to do, nobody actually tells you why they haven't hired you! Our companies are not used to do that. The officer comes closer and whispers in my ear: Don't worry so much, this is only a trial; nobody knows what will happen at the end! Select what you want, but select only one option, okay? Trial huh? But what if you remove me from the register? The officer shrugs his shoulders!
Now it's up to me to decide: "Passive" or "Active". As far as I understood, If I select the first one I should report back in 6 months and they are not sure what after. In my working experience so far, our darling Agency has never employed a person, not me, nor someone from the people I know. Once they called me for a position I was not qualified for (I don't know how to operate a machine of some sort, I don't have the required skills) and they asked me, short and simple: Do you accept or do you decline? I answered that it is not that I don't want, but I am not qualified to do that job, and they just noted: declined, not giving me the chance to say another word. Of course they'll take me out! Fortunately for me, soon after that I found a job by myself, so they couldn't, or didn't get to take me out of the register. So, now I will select "Passive", as the officer suggested. And see what happens then. This time, maybe they'll get to take me out, if they have received such an order, to decrease the unemployment ... It is a trial; let's see what it will come down to.
Democratic passiveness or activeness for unemployment cut down! How can I explain to this Government's measure in my democratic country that all I want is to work honestly and earn some money to make ends meet, nothing more! And unfortunately, there are many others like me! But I keep forgetting that we are now in pre-election period, and numbers come before people.
So, I'll select Passive, come hell or high water...
P. S. See you in six months.

This post is also available in: Albanian Macedonian