Civil organized numerous activities during the Global Week of Action Against Gun Violence* and the International Peace Day. Some of the activities coincided with the project implementation plan of All Colors of My Country project**, which is dedicated to education of children and youth on human rights, peace and tolerance
Lectures
The team of Civil led by Mario Jankulovski and Bardh Ajdini, and a representative of the MOI Training Center held lectures on arms control issues in high schools in Macedonian and Albanian languages. The lecture included information on IANSA and the Global Week of Action, statistics on arms proliferation in Macedonia and worldwide, and risk education on small arms. Civil remains open for cooperation with schools in the country to give lectures and trainings on risk education and awareness-raising on arms control issues. See photos HERE
Peace and human rights initiative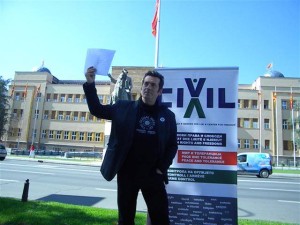 Several years ago, Civil has launched the initiative to the Macedonian Parliament to mark the International Day of Peace (21 September) and the International Human Rights Day (10 December) at national level, and declare these days as national holidays.
Civil's members gathered in front of the Macedonian Parliament deliver the Initiative, and made contacts with citizens to inform on the Global Week of Action. Click for a photo HERE
Press releases and online activism
Civil issued several press releases in Macedonian and Albanian language about the Global Week of Action Against Gun Violence and the International Peace Day, including appeals for peace and tolerance, and stricter arms control measures in the country. Our press releases on arms control issues are publicized in several newspapers and web portals, TV and radio stations. Our members and activists were active online throughout the whole week, posting web articles, blogs and statuses on Civil's Facebook page, and sending e-mails to the numerous addresses in Civil's mailing lists.
Open Day for Human Rights, Peace and Nonviolence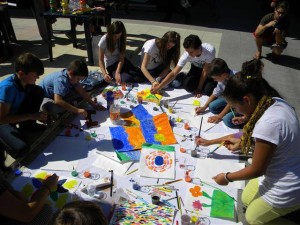 Well over one hundred children, young people, parents and teachers from all around the country came today to celebrate peace, tolerance and nonviolence. Children were part of an open air art workshop drawing about peace and nonviolence, guided by six workshop- leaders and several assistants of the Civil team in the shopping area in the municipality of Karposh (Skopje, Macedonia). The event included a ceremony of awarding certificates of accomplishment for participants to Civil's Summer School of Creativity on human rights, peace and tolerance, and appreciation certificates to the schools and mentors who helped the National Art Contest which preceded the summer school. Small interactive lectures on human rights and risk education on small arms and dissemination of badges went on. The audience was addressed by representatives of Civil and the Chairperson of the Council of Municipality of Karposh, Sasho Lazarovski. Also, the first camera shot was taken by the documentary film crew comprised of youth which was formed during Civil's Summer School for Camera, Film Production and Video Activism. See photos HERE
* Global Week of Action Against Gun Violence is a global initiative led by IANSA
** All Colors of My Country project is supported in the frame of Civica Mobilitas programme, financed by the Swiss Agency for Development and Cooperation (SDC), implemented by the Center for Institutional Development (CIRa).