Civil and "Speak Up!"- an artists' project on human rights and solidarity announce the opening of four simultaneous multimedia art exhibitions, on Friday, October 18th at the multimedia center Mala Stanica, beginning at 20h. This undertaking has began in April this year, as a project supported by the Ministry of Foreign Affairs of the Republic of Germany.
Numerous public events have taken place until now, including press conferences, poetry performances under the title "Verses of Freedom"; a debate on the subject "The role of artists in the defense of human rights" and an exhibition by Miroslav Stojanovik- Shuki titled "Empathy for the Dead (Sept 27-Oct 17, Menada Club).
The four exhibitions that will open on Friday represent a visual uprising by four artists whose works are inspired by the aspirations for human rights. This event is a rare attempt for bringing social responsibility back on the art agenda, a duty that artists and intellectuals in a society should have by definition. Maja Stefanovska, Harald Schenker, Aleksandra Maja Milosevik and Xhabir Deralla are the authors who will address the public through their artwork.
Maja Stefanovska will exhibit a multimedia piece titled "Muteness" comprised by oil paintings and a premiere screening of a short film. Herald Schenker wil show a series of photographs titled "Hjuman Rajtz". Aleksandra Maja Miloshevik is showing a mixed media painting series titled "tsoncevoC" (Covecnost- Humanity in reverse). Xhabir Deralla will show a multimedia art project titled "We Are the Truth", including installations, visual poetry, performance and video art.
All the authors will present their personal artistic visions on a society in which the artists' voice is muted and their social position twisted and leveled down to daily politics and the fight for power.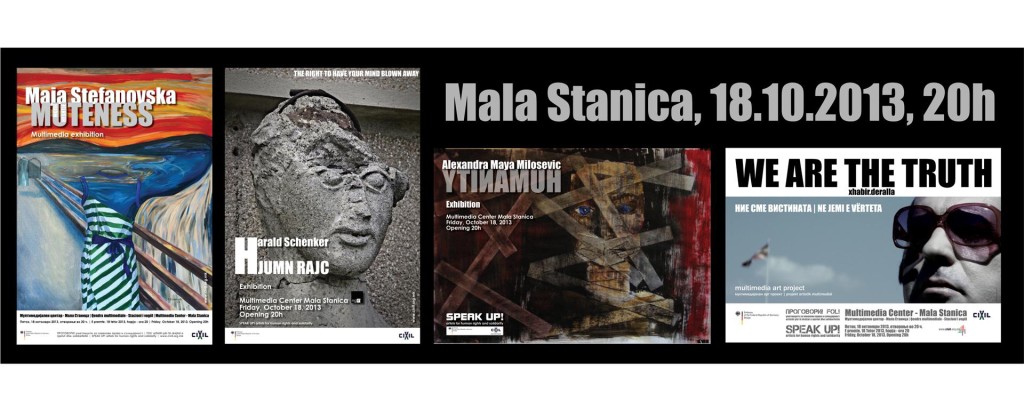 At the beginning of the project, Civil released (published) the manifesto "Speak UP!" that addresses artists as follows: "You grow and develop, you leave traces of freedom and courage behind you. You are never alone. Your thoughts and work, your creations are your companions. You do not need acknowledgment by those who commit crime against beauty, those who do not comprehend anything other but the power of money and violence.  Counter them with your creativity and human values. This is a call for solidarity among those who bring change to the world just by being who they are. This is a call for freedom of thought. A call for action. Speak up!
Now, "Speak Up!" can take pride as a project with several multimedia and media events and a body of work with which many artists broke the silence.
This post is also available in: AlbanianMacedonian